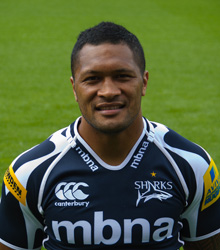 Johnny Leota
| | |
| --- | --- |
| DOB | 21st Jan 1984 |
| Birthplace | Palmerston North, N Zealand |
| Height | 1.83 m (6' 0") |
| Weight | 103 kg (16 st 3 lb) |
| Position | Centre |
| Honours | Samoa (5 caps) |
Player Biog
Another of the signings made by Steve Diamond in his first summer back at Sale, Johnny quickly formed a strong centre partnership with captain Sam Tuitupou in his first season.
Since making his debut in the New Zealand Provincial Championship in 2004, he has made over 50 appearances for Manawatu and also picked up Super 14 experience with the Highlanders.
On signing him, Diamond said: "Johnny is a great signing for us. I have had my eye on him for some time. He is a great defender and a great line breaker with ball in hand."
Date
Opposition
Tries
Conv
DG
Pen
YC
RC
Pts
Mins
01/09/2012

Exeter Chiefs















80

08/09/2012

Saracens















80

15/09/2012

Harlequins















80

21/09/2012

London Welsh















80

29/09/2012

Bath Rugby

1











5

80

05/10/2012

Leicester Tigers















80

14/10/2012

Cardiff Blues















21

21/10/2012

Montpellier















26

26/10/2012

Worcester Warriors















80

02/11/2012

London Irish

1











5

80

08/12/2012

Toulon















80

16/12/2012

Toulon















80

23/12/2012

London Wasps

1











5

80

28/12/2012

Worcester Warriors















80

06/01/2013

Saracens















80

26/01/2013

Scarlets















80

02/02/2013

London Wasps















80

08/02/2013

Exeter Chiefs















80

17/02/2013

London Welsh















80

22/02/2013

Harlequins















80

02/03/2013

Leicester Tigers















80

10/03/2013

Saracens















80

17/03/2013

Harlequins

1











5

80

22/03/2013

Bath Rugby















80

31/03/2013

London Irish

















12/04/2013

Gloucester Rugby

1











5

80

20/04/2013

Northampton Saints

















04/05/2013

London Wasps















80

Total
Played 28
5

0

0

0

0

0

25

1967

Date
Opposition
Tries
Conv
DG
Pen
YC
RC
Pts
Mins
15/10/2011

Gloucester Rugby















40

21/10/2011

Harlequins

1











5

80

28/10/2011

Leicester Tigers















80

06/11/2011

Saracens















80

12/11/2011

Brive

1











5

80

18/11/2011

Rugby Club La Vila

3











15

80

25/11/2011

Exeter Chiefs















80

03/12/2011

Bath Rugby















80

18/12/2011

Agen















80

26/12/2011

Newcastle Falcons















80

01/01/2012

Leicester Tigers















80

08/01/2012

London Irish















80

19/01/2012

Brive















80

29/01/2012

Newcastle Falcons















70

04/02/2012

Scarlets















80

10/02/2012

Worcester Warriors















67

18/02/2012

Northampton Saints















80

24/02/2012

London Wasps

1











5

80

03/03/2012

Exeter Chiefs















57

23/03/2012

Saracens















33

30/03/2012

Newcastle Falcons















80

13/04/2012

Bath Rugby















80

Total
Played 22
6

0

0

0

1

0

30

1627

| Competition | Team | Played | Tries | Conv | DG | Pen | YC | RC | Pts |
| --- | --- | --- | --- | --- | --- | --- | --- | --- | --- |
| 2012-2013 - AVIVA Premiership Rugby | Sale Sharks | 20 | 4 | | | | | | 20 |
| 2012-2013 - Heineken Cup | Sale Sharks | 2 +2 | | | | | | | |
| 2012-2013 - LV= Cup | Sale Sharks | 4 | 1 | | | | | | 5 |
| 2012-2013 Total | | 26 +2 | 5 | | | | | | 25 |
| 2011-2012 - Amlin Challenge Cup | Sale Sharks | 4 | 4 | | | | | | 20 |
| 2011-2012 - AVIVA Premiership Rugby | Sale Sharks | 13 +1 | 1 | | | | | | 5 |
| 2011-2012 - LV= Cup | Sale Sharks | 3 +1 | 1 | | | | 1 | | 5 |
| 2011-2012 Total | | 20 +2 | 6 | | | | 1 | | 30 |
| Total - AVIVA Premiership Rugby | | 33 +1 | 5 | | | | | | 25 |
| Total - Heineken Cup | | 2 +2 | | | | | | | |
| Total - LV= Cup | | 7 +1 | 2 | | | | 1 | | 10 |
| Total - Amlin Challenge Cup | | 4 | 4 | | | | | | 20 |
| Total | | 46 +4 | 11 | 0 | 0 | 0 | 1 | 0 | 55 |
A plus sign (+) in the played column denotes substitute appearance