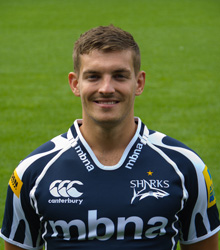 Will Cliff
| | |
| --- | --- |
| DOB | 17th Oct 1988 |
| Birthplace | Macclesfield, England |
| Height | 1.80 m (5' 11") |
| Weight | 83 kg (13 st 0 lb) |
| Position | Scrum Half |
| Honours | |
Player Biog
Will Cliff's career may still be in its infancy, some four years after he made his debut, but he has already proved he has the bravery and talent, to make his mark in professional rugby.
After playing juniors at Sandbach, Will joined Macclesfield before signing up with the Sale Academy and played for Cheshire from Under-15 upwards.
Having spent the early part of 2007/08 helping Manchester win promotion, he returned to Edgeley Park and was the club's Academy Player of the Year that season.
He spent last season playing alongside the likes of Tommy Bell and Jordan Davies and will now hope to finally make a real breakthrough back in the Sale ranks.
Date
Opposition
Tries
Conv
DG
Pen
YC
RC
Pts
Mins
08/09/2012

Saracens















7

15/09/2012

Harlequins















31

21/09/2012

London Welsh















16

11/11/2012

London Irish















8

16/11/2012

Saracens















40

24/11/2012

Gloucester Rugby















17

30/11/2012

Northampton Saints















40

08/12/2012

Toulon















80

16/12/2012

Toulon















52

23/12/2012

London Wasps















48

06/01/2013

Saracens















12

11/01/2013

Montpellier















63

19/01/2013

Cardiff Blues















67

26/01/2013

Scarlets















21

02/02/2013

London Wasps















11

08/02/2013

Exeter Chiefs















25

17/02/2013

London Welsh

1











5

60

22/02/2013

Harlequins















67

Total
Played 18
1

0

0

0

0

0

5

665

Date
Opposition
Tries
Conv
DG
Pen
YC
RC
Pts
Mins
15/10/2011

Gloucester Rugby















22

21/10/2011

Harlequins















52

28/10/2011

Leicester Tigers















18

06/11/2011

Saracens















59

12/11/2011

Brive

















18/11/2011

Rugby Club La Vila















13

14/01/2012

Rugby Club La Vila

1











5

40

05/05/2012

Harlequins















7

Total
Played 8
1

0

0

0

0

0

5

211

Date
Opposition
Tries
Conv
DG
Pen
YC
RC
Pts
Mins
17/09/2010

Harlequins















40

08/10/2010

El Salvador















61

16/10/2010

Petrarca Rugby















80

22/10/2010

Leeds Carnegie















80

31/10/2010

London Irish















80

14/11/2010

Leeds Carnegie















65

27/11/2010

Exeter Chiefs















80

11/12/2010

Brive















34

14/01/2011

Petrarca Rugby

1











5

60

22/01/2011

El Salvador















29

28/01/2011

Newport Gwent Dragons















5

06/02/2011

Saracens















60

11/02/2011

Bath Rugby















80

19/02/2011

Harlequins















71

06/03/2011

London Wasps















80

25/03/2011

Leeds Carnegie















4

02/04/2011

Northampton Saints















67

08/04/2011

Gloucester Rugby















80

16/04/2011

London Irish















80

22/04/2011

Exeter Chiefs















18

Total
Played 20
1

0

0

0

0

0

5

1154

Date
Opposition
Tries
Conv
DG
Pen
YC
RC
Pts
Mins
11/10/2009

Toulouse















12

06/02/2010

Bath Rugby















10

Total
Played 2
0

0

0

0

0

0

0

22

Date
Opposition
Tries
Conv
DG
Pen
YC
RC
Pts
Mins
24/10/2008

Bath Rugby















13

14/03/2009

Northampton Saints















63

22/03/2009

Harlequins















80

Total
Played 3
0

0

0

0

0

0

0

156

Date
Opposition
Tries
Conv
DG
Pen
YC
RC
Pts
Mins
02/11/2007

Bath Rugby















2

15/02/2008

Leeds Carnegie















6

09/03/2008

Saracens















11

14/03/2008

Gloucester Rugby















28

28/03/2008

Bath Rugby

















04/04/2008

Brive

1











5



11/04/2008

Bristol Rugby















2

20/04/2008

Newcastle Falcons

1











5



26/04/2008

Bath Rugby

















10/05/2008

London Irish

















Total
Played 10
2

0

0

0

0

0

10

49

| Competition | Team | Played | Tries | Conv | DG | Pen | YC | RC | Pts |
| --- | --- | --- | --- | --- | --- | --- | --- | --- | --- |
| 2012-2013 - AVIVA Premiership Rugby | Sale Sharks | 3 +7 | 1 | | | | | | 5 |
| 2012-2013 - Heineken Cup | Sale Sharks | 4 | | | | | | | |
| 2012-2013 - LV= Cup | Sale Sharks | 0 +4 | | | | | | | |
| 2012-2013 Total | | 7 +11 | 1 | | | | | | 5 |
| 2011-2012 - Amlin Challenge Cup | Sale Sharks | 1 +2 | 1 | | | | | | 5 |
| 2011-2012 - AVIVA Premiership Rugby | Sale Sharks | 1 +2 | | | | | | | |
| 2011-2012 - LV= Cup | Sale Sharks | 1 +1 | | | | | | | |
| 2011-2012 Total | | 3 +5 | 1 | | | | | | 5 |
| 2010-2011 - Amlin Challenge Cup | Sale Sharks | 3 +2 | 1 | | | | | | 5 |
| 2010-2011 - AVIVA Premiership Rugby | Sale Sharks | 8 +4 | | | | | | | |
| 2010-2011 - LV= Cup | Sale Sharks | 1 +2 | | | | | | | |
| 2010-2011 Total | | 12 +8 | 1 | | | | | | 5 |
| 2009-2010 - Heineken Cup | Sale Sharks | 0 +1 | | | | | | | |
| 2009-2010 - LV= Cup | Sale Sharks | 0 +1 | | | | | | | |
| 2009-2010 Total | | 0 +2 | | | | | | | |
| 2008-2009 - EDF Energy Cup | Sale Sharks | 0 +1 | | | | | | | |
| 2008-2009 - Guinness Premiership | Sale Sharks | 1 +1 | | | | | | | |
| 2008-2009 Total | | 1 +2 | | | | | | | |
| 2007-2008 - Challenge Cup | Sale Sharks | 0 +2 | 1 | | | | | | 5 |
| 2007-2008 - EDF Energy Cup | Sale Sharks | 0 +1 | | | | | | | |
| 2007-2008 - Guinness Premiership | Sale Sharks | 0 +7 | 1 | | | | | | 5 |
| 2007-2008 Total | | 0 +10 | 2 | | | | | | 10 |
| Total - AVIVA Premiership Rugby | | 13 +21 | 2 | | | | | | 10 |
| Total - Heineken Cup | | 4 +1 | | | | | | | |
| Total - LV= Cup | | 2 +10 | | | | | | | |
| Total - Amlin Challenge Cup | | 4 +6 | 3 | | | | | | 15 |
| Total | | 23 +38 | 5 | 0 | 0 | 0 | 0 | 0 | 25 |
A plus sign (+) in the played column denotes substitute appearance