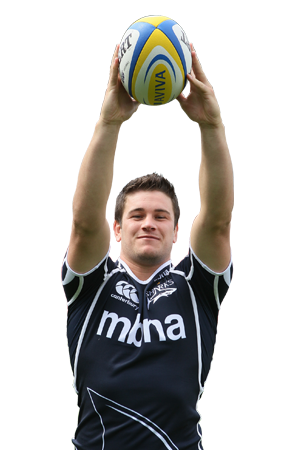 Marc Jones
| | |
| --- | --- |
| DOB | 3rd Apr 1987 |
| Birthplace | Pontypridd, Wales |
| Height | 1.88 m (6' 2") |
| Weight | 93 kg (14 st 9 lb) |
| Position | Hooker |
| Honours | |
Player Biog
The Sharks' Breakthrough Player of the Year back in 2008/09, Marc Jones has built on that platform with more than 20 first-team appearances in each of the last three seasons and made 19 alone in the Premiership in 2011/12.
A Wales international throughout the age groups from U16 up to U21, Marc is primarily a No 2 but has also played at seven when needed.
A spell at Sedgley Tigers in 2006/7 enabled him to gain first-team experience and though he made just five appearances for the Sharks the following season, his development was clear and it was inevitable he would make his breakthrough.
Marc added a year to his contract at Sale when extending his deal at the same time as fellow Welshmen Nick Macleod and Dwayne Peel in February 2012.
Date
Opposition
Tries
Conv
DG
Pen
YC
RC
Pts
Mins
01/09/2012

Exeter Chiefs















29

23/12/2012

London Wasps















68

28/12/2012

Worcester Warriors















76

06/01/2013

Saracens















80

11/01/2013

Montpellier















80

19/01/2013

Cardiff Blues















13

26/01/2013

Scarlets















55

02/02/2013

London Wasps















21

08/02/2013

Exeter Chiefs















20

17/02/2013

London Welsh















53

22/02/2013

Harlequins















30

02/03/2013

Leicester Tigers















51

10/03/2013

Saracens















25

22/03/2013

Bath Rugby















58

31/03/2013

London Irish

















12/04/2013

Gloucester Rugby















51

20/04/2013

Northampton Saints

















04/05/2013

London Wasps















50

Total
Played 18
0

0

0

0

0

0

0

760

Date
Opposition
Tries
Conv
DG
Pen
YC
RC
Pts
Mins
03/09/2011

Worcester Warriors















32

17/09/2011

London Wasps















80

23/09/2011

Northampton Saints















80

01/10/2011

Harlequins















55

08/10/2011

Gloucester Rugby















55

28/10/2011

Leicester Tigers















49

06/11/2011

Saracens















21

12/11/2011

Brive

















18/11/2011

Rugby Club La Vila















32

25/11/2011

Exeter Chiefs















80

03/12/2011

Bath Rugby















80

08/12/2011

Agen

1











5

65

26/12/2011

Newcastle Falcons















77

01/01/2012

Leicester Tigers















67

08/01/2012

London Irish















80

19/01/2012

Brive















65

04/02/2012

Scarlets















60

10/02/2012

Worcester Warriors















56

18/02/2012

Northampton Saints















50

24/02/2012

London Wasps















62

03/03/2012

Exeter Chiefs















54

23/03/2012

Saracens















61

30/03/2012

Newcastle Falcons















58

05/05/2012

Harlequins















40

Total
Played 24
1

0

0

0

0

0

5

1359

Date
Opposition
Tries
Conv
DG
Pen
YC
RC
Pts
Mins
03/09/2010

Newcastle Falcons















29

17/09/2010

Harlequins















40

08/10/2010

El Salvador















80

16/10/2010

Petrarca Rugby















18

31/10/2010

London Irish















40

05/11/2010

London Irish















40

19/11/2010

Northampton Saints















11

27/11/2010

Exeter Chiefs















80

11/12/2010

Brive















75

20/12/2010

Brive















80

27/12/2010

Leicester Tigers















60

02/01/2011

Saracens















71

07/01/2011

Newcastle Falcons















80

22/01/2011

El Salvador















17

28/01/2011

Newport Gwent Dragons















80

06/02/2011

Saracens















40

11/02/2011

Bath Rugby















76

19/02/2011

Harlequins















66

25/03/2011

Leeds Carnegie















2

02/04/2011

Northampton Saints

1











5

40

08/04/2011

Gloucester Rugby















12

07/05/2011

Gloucester Rugby















13

Total
Played 22
1

0

0

0

0

0

5

1050

Date
Opposition
Tries
Conv
DG
Pen
YC
RC
Pts
Mins
04/09/2009

Leicester Tigers















58

18/09/2009

Bath Rugby















80

26/09/2009

Worcester Warriors















66

02/10/2009

London Irish















51

16/10/2009

Cardiff Blues















54

24/10/2009

Northampton Saints















80

30/10/2009

Gloucester Rugby















54

22/11/2009

Leeds Carnegie















58

13/12/2009

Harlequins















15

20/12/2009

Harlequins















26

27/12/2009

Leicester Tigers















50

16/01/2010

Cardiff Blues















23

24/01/2010

Toulouse















7

29/01/2010

Northampton Saints















78

06/02/2010

Bath Rugby















16

07/03/2010

Northampton Saints















3

19/03/2010

London Wasps















13

28/03/2010

London Irish















80

02/04/2010

Worcester Warriors















7

09/04/2010

Saracens















5

17/04/2010

Bath Rugby















29

08/05/2010

Harlequins















75

Total
Played 22
0

0

0

0

1

0

0

928

Date
Opposition
Tries
Conv
DG
Pen
YC
RC
Pts
Mins
07/09/2008

Newcastle Falcons















2

04/10/2008

Cardiff Blues















70

11/10/2008

ASM Clermont Auvergne















1

19/10/2008

Munster Rugby















36

24/10/2008

Bath Rugby















57

31/10/2008

Leicester Tigers















63

23/11/2008

London Wasps















80

28/11/2008

Leicester Tigers















75

05/12/2008

Montauban















74

13/12/2008

Montauban















54

26/12/2008

London Wasps















54

09/01/2009

London Irish















42

16/01/2009

Munster Rugby















58

24/01/2009

ASM Clermont Auvergne















34

31/01/2009

Worcester Warriors















24

14/02/2009

Gloucester Rugby















11

20/02/2009

Bristol Rugby















14

01/03/2009

Saracens















44

08/03/2009

Newcastle Falcons















80

Total
Played 19
0

0

0

0

1

0

0

873

Date
Opposition
Tries
Conv
DG
Pen
YC
RC
Pts
Mins
16/09/2007

Newcastle Falcons















8

29/09/2007

Bath Rugby















8

05/10/2007

London Wasps















9

13/10/2007

Gloucester Rugby















40

11/01/2008

Petrarca Padova















9

Total
Played 5
0

0

0

0

0

0

0

74

Date
Opposition
Tries
Conv
DG
Pen
YC
RC
Pts
Mins
28/04/2007

NEC Harlequins















56

Total
Played 1
0

0

0

0

0

0

0

56

Date
Opposition
Tries
Conv
DG
Pen
YC
RC
Pts
Mins
06/05/2006

Northampton Saints















48

Total
Played 1
0

0

0

0

0

0

0

48

| Competition | Team | Played | Tries | Conv | DG | Pen | YC | RC | Pts |
| --- | --- | --- | --- | --- | --- | --- | --- | --- | --- |
| 2012-2013 - AVIVA Premiership Rugby | Sale Sharks | 9 +4 | | | | | | | |
| 2012-2013 - Heineken Cup | Sale Sharks | 1 +1 | | | | | | | |
| 2012-2013 - LV= Cup | Sale Sharks | 1 +2 | | | | | | | |
| 2012-2013 Total | | 11 +7 | | | | | | | |
| 2011-2012 - Amlin Challenge Cup | Sale Sharks | 3 +1 | 1 | | | | | | 5 |
| 2011-2012 - AVIVA Premiership Rugby | Sale Sharks | 17 +2 | | | | | | | |
| 2011-2012 - LV= Cup | Sale Sharks | 1 | | | | | | | |
| 2011-2012 Total | | 21 +3 | 1 | | | | | | 5 |
| 2010-2011 - Amlin Challenge Cup | Sale Sharks | 3 +2 | | | | | | | |
| 2010-2011 - AVIVA Premiership Rugby | Sale Sharks | 7 +7 | 1 | | | | | | 5 |
| 2010-2011 - LV= Cup | Sale Sharks | 3 | | | | | | | |
| 2010-2011 Total | | 13 +9 | 1 | | | | | | 5 |
| 2009-2010 - Guinness Premiership | Sale Sharks | 9 +6 | | | | | 1 | | |
| 2009-2010 - Heineken Cup | Sale Sharks | 1 +4 | | | | | | | |
| 2009-2010 - LV= Cup | Sale Sharks | 1 +1 | | | | | | | |
| 2009-2010 Total | | 11 +11 | | | | | 1 | | |
| 2008-2009 - EDF Energy Cup | Sale Sharks | 3 | | | | | 1 | | |
| 2008-2009 - Guinness Premiership | Sale Sharks | 5 +5 | | | | | | | |
| 2008-2009 - Heineken Cup | Sale Sharks | 3 +3 | | | | | | | |
| 2008-2009 Total | | 11 +8 | | | | | 1 | | |
| 2007-2008 - Challenge Cup | Sale Sharks | 0 +1 | | | | | | | |
| 2007-2008 - Guinness Premiership | Sale Sharks | 1 +3 | | | | | | | |
| 2007-2008 Total | | 1 +4 | | | | | | | |
| 2006-2007 - Guinness Premiership | Sale Sharks | 0 +1 | | | | | | | |
| 2006-2007 Total | | 0 +1 | | | | | | | |
| 2005-2006 - Guinness Premiership | Sale Sharks | 0 +1 | | | | | | | |
| 2005-2006 Total | | 0 +1 | | | | | | | |
| Total - AVIVA Premiership Rugby | | 48 +29 | 1 | | | | 1 | | 5 |
| Total - Heineken Cup | | 5 +8 | | | | | | | |
| Total - LV= Cup | | 9 +3 | | | | | 1 | | |
| Total - Amlin Challenge Cup | | 6 +4 | 1 | | | | | | 5 |
| Total | | 68 +44 | 2 | 0 | 0 | 0 | 2 | 0 | 10 |
A plus sign (+) in the played column denotes substitute appearance