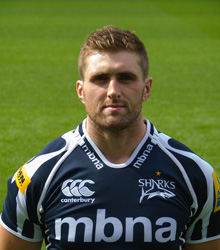 Richie Vernon
| | |
| --- | --- |
| DOB | 7th Jul 1987 |
| Birthplace | Dundee, Scotland |
| Height | 1.96 m (6' 5") |
| Weight | 101 kg (15 st 12 lb) |
| Position | Centre |
| Honours | Scotland (23 caps) |
Player Biog
Richie Vernon's signing was confirmed just days after he played for Scotland in their 2011 Calcutta Cup clash with England and making 20 appearances at full international level.
Recruited by the Sharks from Glasgow, the back row offers the versatility of also being able to play at number eight and has been capped by his country at all levels, including in the Sevens game.
One of his country's most athletic and skilful forward, he followed in the footsteps of Jason White, who headed south from Glasgow to Sale in 2003 and went on to become a hugely influential figure at the Sharks.
Date
Opposition
Tries
Conv
DG
Pen
YC
RC
Pts
Mins
01/09/2012

Exeter Chiefs















10

08/09/2012

Saracens















80

15/09/2012

Harlequins

1











5

80

21/09/2012

London Welsh















9

05/10/2012

Leicester Tigers















73

14/10/2012

Cardiff Blues















80

21/10/2012

Montpellier

1











5

23

26/10/2012

Worcester Warriors















80

02/11/2012

London Irish















80

11/11/2012

London Irish















80

16/11/2012

Saracens















80

24/11/2012

Gloucester Rugby















80

30/11/2012

Northampton Saints















80

08/12/2012

RC Toulon















51

16/12/2012

RC Toulon















80

23/12/2012

London Wasps

1











5

80

28/12/2012

Worcester Warriors















80

06/01/2013

Saracens















80

19/01/2013

Cardiff Blues















80

26/01/2013

Scarlets

1











5

80

08/02/2013

Exeter Chiefs















46

17/02/2013

London Welsh















13

22/02/2013

Harlequins

1











5

18

02/03/2013

Leicester Tigers















45

31/03/2013

London Irish

















12/04/2013

Gloucester Rugby















26

20/04/2013

Northampton Saints

















Total
Played 27
5

0

0

0

0

0

25

1514

Date
Opposition
Tries
Conv
DG
Pen
YC
RC
Pts
Mins
08/10/2011

Gloucester Rugby















5

15/10/2011

Gloucester Rugby

1











5

70

21/10/2011

Harlequins















80

28/10/2011

Leicester Tigers















80

06/11/2011

Saracens















80

12/11/2011

Brive

















18/11/2011

Rugby Club La Vila

1











5

80

25/11/2011

Exeter Chiefs















7

03/12/2011

Bath Rugby















58

08/12/2011

Agen

1











5

80

18/12/2011

Agen















80

08/01/2012

London Irish















80

14/01/2012

Rugby Club La Vila

2











10

80

19/01/2012

Brive















23

29/01/2012

Newcastle Falcons















49

10/02/2012

Worcester Warriors















66

18/02/2012

Northampton Saints















80

03/03/2012

Exeter Chiefs















51

23/03/2012

Saracens















19

30/03/2012

Newcastle Falcons















63

13/04/2012

Bath Rugby















63

Total
Played 21
5

0

0

0

1

0

25

1194

| Competition | Team | Played | Tries | Conv | DG | Pen | YC | RC | Pts |
| --- | --- | --- | --- | --- | --- | --- | --- | --- | --- |
| 2012-2013 - AVIVA Premiership Rugby | Sale Sharks | 12 +7 | 3 | | | | | | 15 |
| 2012-2013 - Heineken Cup | Sale Sharks | 4 +1 | 1 | | | | | | 5 |
| 2012-2013 - LV= Cup | Sale Sharks | 3 | 1 | | | | | | 5 |
| 2012-2013 Total | | 19 +8 | 5 | | | | | | 25 |
| 2011-2012 - Amlin Challenge Cup | Sale Sharks | 4 +2 | 4 | | | | | | 20 |
| 2011-2012 - AVIVA Premiership Rugby | Sale Sharks | 8 +4 | | | | | | | |
| 2011-2012 - LV= Cup | Sale Sharks | 2 +1 | 1 | | | | 1 | | 5 |
| 2011-2012 Total | | 14 +7 | 5 | | | | 1 | | 25 |
| Total - AVIVA Premiership Rugby | | 20 +11 | 3 | | | | | | 15 |
| Total - European Rugby Champions Cup | | 4 +1 | 1 | | | | | | 5 |
| Total - LV= Cup | | 5 +1 | 2 | | | | 1 | | 10 |
| Total - European Rugby Challenge Cup | | 4 +2 | 4 | | | | | | 20 |
| Total | | 33 +15 | 10 | 0 | 0 | 0 | 1 | 0 | 50 |
A plus sign (+) in the played column denotes substitute appearance