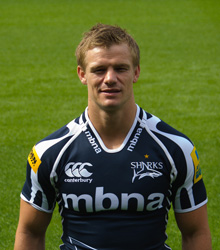 Dwayne Peel
| | |
| --- | --- |
| DOB | 31st Aug 1981 |
| Birthplace | Carmarthen, Wales |
| Height | 1.78 m (5' 10") |
| Weight | 86 kg (13 st 7 lb) |
| Position | Scrum Half |
| Honours | Wales (76 caps) |
Player Biog
Firmly established as the Sharks' starting No 9, Dwayne Peel was rewarded with a new two-year deal towards the end of last season.
Wales' most-capped No 9 with over 75 appearances to his name, he was also a Lions tourist in 2005, playing in all three Test matches under Clive Woodward.
Quick and athletic and never afraid to snipe around the fringes, Dwayne is a fine passer with good vision and the innate knowledge of when to run and when to pass.
Having started his club career with Llanelli, he joined the Scarlets franchise in 2003 and went on to play over 80 times for them in all competitions before leaving for Sale in 2008.
Date
Opposition
Tries
Conv
DG
Pen
YC
RC
Pts
Mins
01/09/2012

Exeter Chiefs















52

08/09/2012

Saracens















73

15/09/2012

Harlequins















49

21/09/2012

London Welsh















64

02/11/2012

London Irish















7

11/11/2012

London Irish

1











5

72

16/11/2012

Saracens















40

24/11/2012

Gloucester Rugby















63

30/11/2012

Northampton Saints















40

28/12/2012

Worcester Warriors















36

06/01/2013

Saracens















68

26/01/2013

Scarlets















59

02/02/2013

London Wasps















69

08/02/2013

Exeter Chiefs















55

17/03/2013

Harlequins















30

22/03/2013

Bath Rugby















80

31/03/2013

London Irish

















12/04/2013

Gloucester Rugby

2











10

76

20/04/2013

Northampton Saints

















04/05/2013

London Wasps















80

Total
Played 20
3

0

0

0

0

0

15

1013

Date
Opposition
Tries
Conv
DG
Pen
YC
RC
Pts
Mins
03/09/2011

Worcester Warriors















67

09/09/2011

London Irish

1











5

80

17/09/2011

London Wasps















51

23/09/2011

Northampton Saints

1











5

70

01/10/2011

Harlequins

1











5

55

21/10/2011

Harlequins















28

28/10/2011

Leicester Tigers















62

25/11/2011

Exeter Chiefs















80

03/12/2011

Bath Rugby















65

26/12/2011

Newcastle Falcons















66

01/01/2012

Leicester Tigers















80

08/01/2012

London Irish















71

19/01/2012

Brive















80

29/01/2012

Newcastle Falcons















40

04/02/2012

Scarlets















60

10/02/2012

Worcester Warriors















67

18/02/2012

Northampton Saints















50

24/02/2012

London Wasps

1











5

62

03/03/2012

Exeter Chiefs















57

23/03/2012

Saracens















61

30/03/2012

Newcastle Falcons















80

13/04/2012

Bath Rugby















11

Total
Played 22
4

0

0

0

1

0

20

1343

Date
Opposition
Tries
Conv
DG
Pen
YC
RC
Pts
Mins
03/09/2010

Newcastle Falcons





1







3

63

12/09/2010

Saracens















80

25/09/2010

Bath Rugby















80

01/10/2010

London Wasps















80

05/11/2010

London Irish















40

14/11/2010

Leeds Carnegie















10

19/11/2010

Northampton Saints















80

11/12/2010

Brive















46

20/12/2010

Brive















80

27/12/2010

Leicester Tigers

1











5

80

02/01/2011

Saracens















80

07/01/2011

Newcastle Falcons















80

28/01/2011

Newport Gwent Dragons















75

25/02/2011

Leicester Tigers















80

25/03/2011

Leeds Carnegie















76

02/04/2011

Northampton Saints















13

22/04/2011

Exeter Chiefs















62

07/05/2011

Gloucester Rugby















80

Total
Played 18
1

0

1

0

0

0

8

1185

Date
Opposition
Tries
Conv
DG
Pen
YC
RC
Pts
Mins
11/10/2009

Toulouse















68

16/10/2009

Cardiff Blues















80

24/10/2009

Northampton Saints















8

30/10/2009

Gloucester Rugby















80

06/11/2009

Newport Gwent Dragons















16

13/12/2009

Harlequins

1











5

73

20/12/2009

Harlequins















56

01/01/2010

Harlequins















80

16/01/2010

Cardiff Blues















55

14/02/2010

London Wasps















7

19/02/2010

Leeds Carnegie















80

27/02/2010

Gloucester Rugby















26

07/03/2010

Northampton Saints















80

28/03/2010

London Irish















29

09/04/2010

Saracens















18

17/04/2010

Bath Rugby















67

08/05/2010

Harlequins















68

Total
Played 17
1

0

0

0

0

0

5

891

Date
Opposition
Tries
Conv
DG
Pen
YC
RC
Pts
Mins
07/09/2008

Newcastle Falcons















62

12/09/2008

Saracens















24

19/09/2008

Bristol Rugby















67

26/09/2008

Gloucester Rugby















32

01/10/2008

London Irish















80

11/10/2008

ASM Clermont Auvergne















45

19/10/2008

Munster Rugby















44

31/10/2008

Leicester Tigers















80

28/11/2008

Leicester Tigers















40

05/12/2008

Montauban















54

20/12/2008

Bath Rugby















80

26/12/2008

London Wasps















23

09/01/2009

London Irish















77

16/01/2009

Munster Rugby















31

24/01/2009

ASM Clermont Auvergne

1











5

80

31/01/2009

Worcester Warriors















65

20/02/2009

Bristol Rugby















70

08/03/2009

Newcastle Falcons















69

04/04/2009

Leicester Tigers















65

17/04/2009

Harlequins















63

25/04/2009

Northampton Saints















15

Total
Played 21
1

0

0

0

0

0

5

1166

| Competition | Team | Played | Tries | Conv | DG | Pen | YC | RC | Pts |
| --- | --- | --- | --- | --- | --- | --- | --- | --- | --- |
| 2012-2013 - AVIVA Premiership Rugby | Sale Sharks | 13 +2 | 2 | | | | | | 10 |
| 2012-2013 - LV= Cup | Sale Sharks | 4 +1 | 1 | | | | | | 5 |
| 2012-2013 Total | | 17 +3 | 3 | | | | | | 15 |
| 2011-2012 - Amlin Challenge Cup | Sale Sharks | 1 | | | | | | | |
| 2011-2012 - AVIVA Premiership Rugby | Sale Sharks | 18 | 4 | | | | 1 | | 20 |
| 2011-2012 - LV= Cup | Sale Sharks | 2 +1 | | | | | | | |
| 2011-2012 Total | | 21 +1 | 4 | | | | 1 | | 20 |
| 2010-2011 - Amlin Challenge Cup | Sale Sharks | 2 | | | | | | | |
| 2010-2011 - AVIVA Premiership Rugby | Sale Sharks | 13 | 1 | | 1 | | | | 8 |
| 2010-2011 - LV= Cup | Sale Sharks | 3 | | | | | | | |
| 2010-2011 Total | | 18 | 1 | | 1 | | | | 8 |
| 2009-2010 - Guinness Premiership | Sale Sharks | 7 +4 | | | | | | | |
| 2009-2010 - Heineken Cup | Sale Sharks | 5 | 1 | | | | | | 5 |
| 2009-2010 - LV= Cup | Sale Sharks | 0 +1 | | | | | | | |
| 2009-2010 Total | | 12 +5 | 1 | | | | | | 5 |
| 2008-2009 - EDF Energy Cup | Sale Sharks | 1 | | | | | | | |
| 2008-2009 - Guinness Premiership | Sale Sharks | 10 +5 | | | | | | | |
| 2008-2009 - Heineken Cup | Sale Sharks | 4 +1 | 1 | | | | | | 5 |
| 2008-2009 Total | | 15 +6 | 1 | | | | | | 5 |
| Total - AVIVA Premiership Rugby | | 61 +11 | 7 | | 1 | | 1 | | 38 |
| Total - LV= Cup | | 10 +3 | 1 | | | | | | 5 |
| Total - Amlin Challenge Cup | | 3 | | | | | | | |
| Total - Heineken Cup | | 9 +1 | 2 | | | | | | 10 |
| Total | | 83 +15 | 10 | 0 | 1 | 0 | 1 | 0 | 53 |
A plus sign (+) in the played column denotes substitute appearance