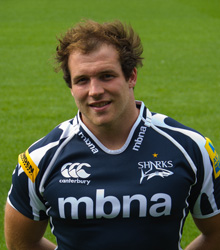 Henry Thomas
| | |
| --- | --- |
| DOB | 30th Oct 1991 |
| Birthplace | Kingston-upon-Thames, England |
| Height | 1.85 m (6' 1") |
| Weight | 111 kg (17 st 6 lb) |
| Position | Prop |
| Honours | |
Player Biog
The son of a former London Welsh player, Henry Thomas is another youngster who looks set for a bright future, though a knee injury limited his appearances in what he hoped would be his first full season as a Sharks regular.
Henry began the 2010/11 season as captain of the Jets but made his first-team debut in October and went on to appear in 14 Premiership games that season.
A knee injury that he sustained at Leicester on New Year's Day robbed him of over three months playing.
Henry first played for Bath minis aged six and has gone on to represent England from U16 to U20s.
A former Number Eight, he also played U16 cricket for his country.
Date
Opposition
Tries
Conv
DG
Pen
YC
RC
Pts
Mins
08/09/2012

Saracens















13

15/09/2012

Harlequins















33

26/01/2013

Scarlets















25

02/02/2013

London Wasps















59

08/02/2013

Exeter Chiefs















60

17/02/2013

London Welsh















65

22/02/2013

Harlequins















68

02/03/2013

Leicester Tigers















59

10/03/2013

Saracens















55

17/03/2013

Harlequins















30

22/03/2013

Bath Rugby















63

31/03/2013

London Irish

1











5



12/04/2013

Gloucester Rugby















54

20/04/2013

Northampton Saints

















04/05/2013

London Wasps















80

Total
Played 15
1

0

0

0

0

0

5

664

Date
Opposition
Tries
Conv
DG
Pen
YC
RC
Pts
Mins
03/09/2011

Worcester Warriors















32

09/09/2011

London Irish

1











5

80

17/09/2011

London Wasps















80

23/09/2011

Northampton Saints















78

01/10/2011

Harlequins















68

08/10/2011

Gloucester Rugby















53

21/10/2011

Harlequins















29

28/10/2011

Leicester Tigers















56

06/11/2011

Saracens















55

12/11/2011

Brive

















18/11/2011

Rugby Club La Vila















16

25/11/2011

Exeter Chiefs

1











5

70

03/12/2011

Bath Rugby















22

08/12/2011

Agen















20

18/12/2011

Agen















57

26/12/2011

Newcastle Falcons















62

01/01/2012

Leicester Tigers















24

13/04/2012

Bath Rugby















17

21/04/2012

Gloucester Rugby















22

05/05/2012

Harlequins















80

Total
Played 20
2

0

0

0

2

0

10

921

Date
Opposition
Tries
Conv
DG
Pen
YC
RC
Pts
Mins
31/10/2010

London Irish















11

05/11/2010

London Irish















69

14/11/2010

Leeds Carnegie















73

19/11/2010

Northampton Saints















4

27/11/2010

Exeter Chiefs















24

11/12/2010

Brive















25

20/12/2010

Brive















80

27/12/2010

Leicester Tigers















2

02/01/2011

Saracens















13

14/01/2011

Petrarca Rugby

1











5

59

22/01/2011

El Salvador















27

28/01/2011

Newport Gwent Dragons

2











10

80

11/02/2011

Bath Rugby















80

19/02/2011

Harlequins















63

25/02/2011

Leicester Tigers















80

06/03/2011

London Wasps















69

25/03/2011

Leeds Carnegie















72

02/04/2011

Northampton Saints















59

08/04/2011

Gloucester Rugby















80

16/04/2011

London Irish















80

22/04/2011

Exeter Chiefs















44

Total
Played 21
3

0

0

0

1

0

15

1094

| Competition | Team | Played | Tries | Conv | DG | Pen | YC | RC | Pts |
| --- | --- | --- | --- | --- | --- | --- | --- | --- | --- |
| 2012-2013 - AVIVA Premiership Rugby | Sale Sharks | 9 +2 | 1 | | | | | | 5 |
| 2012-2013 - LV= Cup | Sale Sharks | 2 +2 | | | | | | | |
| 2012-2013 Total | | 11 +4 | 1 | | | | | | 5 |
| 2011-2012 - Amlin Challenge Cup | Sale Sharks | 1 +3 | | | | | | | |
| 2011-2012 - AVIVA Premiership Rugby | Sale Sharks | 11 +4 | 2 | | | | 2 | | 10 |
| 2011-2012 - LV= Cup | Sale Sharks | 0 +1 | | | | | | | |
| 2011-2012 Total | | 12 +8 | 2 | | | | 2 | | 10 |
| 2010-2011 - Amlin Challenge Cup | Sale Sharks | 2 +2 | 1 | | | | | | 5 |
| 2010-2011 - AVIVA Premiership Rugby | Sale Sharks | 9 +5 | | | | | 1 | | |
| 2010-2011 - LV= Cup | Sale Sharks | 3 | 2 | | | | | | 10 |
| 2010-2011 Total | | 14 +7 | 3 | | | | 1 | | 15 |
| Total - AVIVA Premiership Rugby | | 29 +11 | 3 | | | | 3 | | 15 |
| Total - LV= Cup | | 5 +3 | 2 | | | | | | 10 |
| Total - Amlin Challenge Cup | | 3 +5 | 1 | | | | | | 5 |
| Total | | 37 +19 | 6 | 0 | 0 | 0 | 3 | 0 | 30 |
A plus sign (+) in the played column denotes substitute appearance