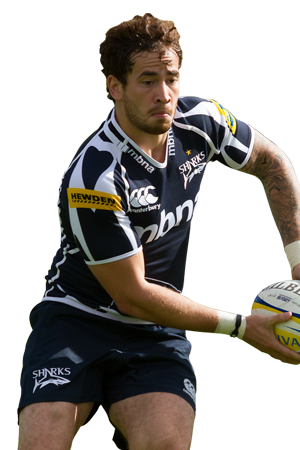 Danny Cipriani
| | |
| --- | --- |
| DOB | 2nd Nov 1987 |
| Birthplace | Roehampton, England |
| Height | 1.85 m (6' 1") |
| Weight | 92 kg (14 st 6 lb) |
| Position | Fly Half |
| Honours | England (7 caps) |
Player Biog
Danny is back in the Premiership after joining the Sharks on a three-year deal in the summer.
Having come through the Wasps academy, he made his debut for the club as a 17-year-old in 2004 and three years later, was named man of the match in his first Premiership start.
Former England coach Brian Ashton handed him a full international debut against Ireland in March 2008 and he responded by kicking 18 points in a 33-10 victory.
He went on to score a total of 49 points in seven matches for England but found himself out of favour for much of Martin Johnson's reign and hasn't played international rugby since 2009.
Danny moved to newly formed Super 15 side Rebels in 2010 on a two-year deal and was their leading scorer last year with 108 points, catching the eye of Steve Diamond in the process.
| Date | Opposition | Tries | Conv | DG | Pen | YC | RC | Pts | Mins |
| --- | --- | --- | --- | --- | --- | --- | --- | --- | --- |
| 01/09/2012 | Exeter Chiefs | | | | | | | | 50 |
| 08/09/2012 | Saracens | | 1 | | 3 | | | 11 | 60 |
| 15/09/2012 | Harlequins | | | | 3 | | | 9 | 71 |
| 21/09/2012 | London Welsh | | | | 3 | | | 9 | 51 |
| 29/09/2012 | Bath Rugby | | | | | | | | 18 |
| 14/10/2012 | Cardiff Blues | 1 | | | | | | 5 | 31 |
| 21/10/2012 | Montpellier | | | | | | | | 80 |
| 26/10/2012 | Worcester Warriors | | | | 2 | | | 6 | 66 |
| 02/11/2012 | London Irish | | 1 | | 2 | | | 8 | 80 |
| 11/11/2012 | London Irish | 1 | 1 | | 3 | | | 16 | 73 |
| 16/11/2012 | Saracens | | | | 1 | | | 3 | 57 |
| 24/11/2012 | Gloucester Rugby | | | | 1 | | | 3 | 63 |
| 08/12/2012 | Toulon | | | | 2 | | | 6 | 80 |
| 16/12/2012 | Toulon | | | | | | | | 80 |
| 28/12/2012 | Worcester Warriors | | 3 | | 4 | | | 18 | 80 |
| 06/01/2013 | Saracens | | | | 4 | | | 12 | 80 |
| 11/01/2013 | Montpellier | | | | 2 | | | 6 | 67 |
| 26/01/2013 | Scarlets | 1 | 2 | | 4 | | | 21 | 80 |
| 02/02/2013 | London Wasps | 1 | 4 | | | | | 13 | 80 |
| 08/02/2013 | Exeter Chiefs | | | | 1 | | | 3 | 80 |
| 17/02/2013 | London Welsh | | 2 | | 3 | | | 13 | 65 |
| 22/02/2013 | Harlequins | | 3 | | | | | 6 | 80 |
| 02/03/2013 | Leicester Tigers | | 1 | | | | | 2 | 29 |
| 10/03/2013 | Saracens | | 1 | | 3 | | | 11 | 80 |
| 17/03/2013 | Harlequins | | | | 3 | | | 9 | 80 |
| 12/04/2013 | Gloucester Rugby | | | | | | | | 18 |
| 20/04/2013 | Northampton Saints | | 1 | | | | | 2 | |
| Total | Played 27 | 4 | 20 | 0 | 44 | 0 | 0 | 192 | 1679 |
| Competition | Team | Played | Tries | Conv | DG | Pen | YC | RC | Pts |
| --- | --- | --- | --- | --- | --- | --- | --- | --- | --- |
| 2012-2013 - AVIVA Premiership Rugby | Sale Sharks | 12 +4 | | 12 | | 26 | | | 102 |
| 2012-2013 - Heineken Cup | Sale Sharks | 4 +1 | 1 | | | 4 | | | 17 |
| 2012-2013 - LV= Cup | Sale Sharks | 6 | 3 | 8 | | 14 | | | 73 |
| 2012-2013 Total | | 22 +5 | 4 | 20 | | 44 | | | 192 |
| Total - AVIVA Premiership Rugby | | 12 +4 | | 12 | | 26 | | | 102 |
| Total - Heineken Cup | | 4 +1 | 1 | | | 4 | | | 17 |
| Total - LV= Cup | | 6 | 3 | 8 | | 14 | | | 73 |
| Total | | 22 +5 | 4 | 20 | 0 | 44 | 0 | 0 | 192 |
A plus sign (+) in the played column denotes substitute appearance