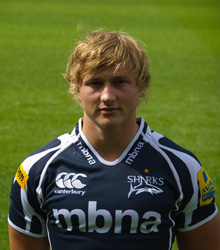 Tommy Taylor
| | |
| --- | --- |
| DOB | 11th Nov 1991 |
| Birthplace | Macclesfield, England |
| Height | 1.80 m (5' 11") |
| Weight | 100 kg (15 st 10 lb) |
| Position | Hooker |
| Honours | |
Player Biog
Tommy Taylor signed for the Sharks' Academy on the same day in July 2011 as fellow Cheshire-born youngsters Ross Harrison and Tom Holmes and made his first-team debut last season.
Hailing from Macclesfield, Tommy left Kings School in 2010 and put off his University education for a year, during which he was a regular for the Jets whilst also representing Cheshire and England Counties.
He has since progressed to the first team and is relishing taking the next step towards a successful rugby career.
Date
Opposition
Tries
Conv
DG
Pen
YC
RC
Pts
Mins
29/09/2012

Bath Rugby















57

05/10/2012

Leicester Tigers















69

14/10/2012

Cardiff Blues















80

21/10/2012

Montpellier















40

26/10/2012

Worcester Warriors















80

02/11/2012

London Irish















80

11/11/2012

London Irish















71

16/11/2012

Saracens















32

24/11/2012

Gloucester Rugby















54

30/11/2012

Northampton Saints

1











5

80

08/12/2012

Toulon















80

19/01/2013

Cardiff Blues

1











5

67

26/01/2013

Scarlets















25

02/02/2013

London Wasps

1











5

59

08/02/2013

Exeter Chiefs















60

17/02/2013

London Welsh















27

22/02/2013

Harlequins















50

02/03/2013

Leicester Tigers















29

10/03/2013

Saracens















55

17/03/2013

Harlequins















75

22/03/2013

Bath Rugby















22

31/03/2013

London Irish

















12/04/2013

Gloucester Rugby















29

20/04/2013

Northampton Saints

















04/05/2013

London Wasps















30

Total
Played 25
3

0

0

0

0

0

15

1251

Date
Opposition
Tries
Conv
DG
Pen
YC
RC
Pts
Mins
01/10/2011

Harlequins















25

15/10/2011

Gloucester Rugby















65

21/10/2011

Harlequins















80

06/11/2011

Saracens















59

12/11/2011

Brive

















18/11/2011

Rugby Club La Vila















48

08/12/2011

Agen















15

18/12/2011

Agen















80

14/01/2012

Rugby Club La Vila















80

29/01/2012

Newcastle Falcons















27

05/05/2012

Harlequins















28

Total
Played 11
0

0

0

0

0

0

0

507

| Competition | Team | Played | Tries | Conv | DG | Pen | YC | RC | Pts |
| --- | --- | --- | --- | --- | --- | --- | --- | --- | --- |
| 2012-2013 - AVIVA Premiership Rugby | Sale Sharks | 9 +6 | 1 | | | | | | 5 |
| 2012-2013 - Heineken Cup | Sale Sharks | 3 +1 | 1 | | | | | | 5 |
| 2012-2013 - LV= Cup | Sale Sharks | 4 +2 | 1 | | | | | | 5 |
| 2012-2013 Total | | 16 +9 | 3 | | | | | | 15 |
| 2011-2012 - Amlin Challenge Cup | Sale Sharks | 3 +2 | | | | | | | |
| 2011-2012 - AVIVA Premiership Rugby | Sale Sharks | 1 +2 | | | | | | | |
| 2011-2012 - LV= Cup | Sale Sharks | 1 +2 | | | | | | | |
| 2011-2012 Total | | 5 +6 | | | | | | | |
| Total - AVIVA Premiership Rugby | | 10 +8 | 1 | | | | | | 5 |
| Total - Heineken Cup | | 3 +1 | 1 | | | | | | 5 |
| Total - LV= Cup | | 5 +4 | 1 | | | | | | 5 |
| Total - Amlin Challenge Cup | | 3 +2 | | | | | | | |
| Total | | 21 +15 | 3 | 0 | 0 | 0 | 0 | 0 | 15 |
A plus sign (+) in the played column denotes substitute appearance