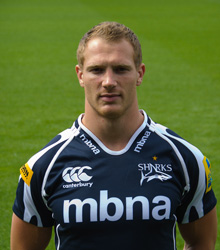 Kearnan Myall
| | |
| --- | --- |
| DOB | 15th Dec 1986 |
| Birthplace | Huddersfield, England |
| Height | 2.01 m (6' 7") |
| Weight | 110 kg (17 st 4 lb) |
| Position | Lock |
| Honours | |
Player Biog
Kearnan Myall, along with Hendrie Fourie, crossed the Pennines from Leeds after their relegation and quickly established himself as a mainstay of the Sharks pack.
He made his debut for the Yorkshire side, ironically against Sale in 05/06 and his form brought him to the attention of Leicester and Northampton.
He won an England Saxons call-up in 2010 having previously played for England U18s and it was certainly a coup when the Sharks lured him to Edgeley Park at the start of the 11/12 season.
Kearnan made 21 appearances for the Sharks in the Premiership last season to add to the 58 he had under his belt whilst at Leeds and was one of their stand-out performers.
Date
Opposition
Tries
Conv
DG
Pen
YC
RC
Pts
Mins
01/09/2012

Exeter Chiefs















31

08/09/2012

Saracens















80

15/09/2012

Harlequins















80

21/09/2012

London Welsh















60

29/09/2012

Bath Rugby















80

05/10/2012

Leicester Tigers















11

21/10/2012

Montpellier















80

26/10/2012

Worcester Warriors















57

02/11/2012

London Irish















80

11/11/2012

London Irish















50

16/11/2012

Saracens















80

24/11/2012

Gloucester Rugby















80

30/11/2012

Northampton Saints















56

08/12/2012

RC Toulon















26

16/12/2012

RC Toulon















21

23/12/2012

London Wasps















59

28/12/2012

Worcester Warriors















54

06/01/2013

Saracens















80

11/01/2013

Montpellier















13

19/01/2013

Cardiff Blues















74

26/01/2013

Scarlets















69

02/02/2013

London Wasps

1











5

60

08/02/2013

Exeter Chiefs















78

22/02/2013

Harlequins















62

22/03/2013

Bath Rugby















30

31/03/2013

London Irish

1











5



12/04/2013

Gloucester Rugby















80

20/04/2013

Northampton Saints

















04/05/2013

London Wasps















72

Total
Played 29
2

0

0

0

1

0

10

1603

Date
Opposition
Tries
Conv
DG
Pen
YC
RC
Pts
Mins
03/09/2011

Worcester Warriors















80

09/09/2011

London Irish















80

17/09/2011

London Wasps















80

23/09/2011

Northampton Saints















80

01/10/2011

Harlequins















80

08/10/2011

Gloucester Rugby















80

15/10/2011

Gloucester Rugby















40

28/10/2011

Leicester Tigers















80

06/11/2011

Saracens















17

12/11/2011

Brive

















18/11/2011

Rugby Club La Vila















80

25/11/2011

Exeter Chiefs















80

03/12/2011

Bath Rugby















80

26/12/2011

Newcastle Falcons















18

01/01/2012

Leicester Tigers















80

08/01/2012

London Irish















33

14/01/2012

Rugby Club La Vila















45

19/01/2012

Brive















20

10/02/2012

Worcester Warriors















24

24/02/2012

London Wasps















80

03/03/2012

Exeter Chiefs















80

23/03/2012

Saracens















80

30/03/2012

Newcastle Falcons















80

13/04/2012

Bath Rugby















80

21/04/2012

Gloucester Rugby















80

05/05/2012

Harlequins















80

Total
Played 26
0

0

0

0

0

0

0

1637

| Competition | Team | Played | Tries | Conv | DG | Pen | YC | RC | Pts |
| --- | --- | --- | --- | --- | --- | --- | --- | --- | --- |
| 2012-2013 - AVIVA Premiership Rugby | Sale Sharks | 17 +3 | 1 | | | | 1 | | 5 |
| 2012-2013 - Heineken Cup | Sale Sharks | 2 +3 | | | | | | | |
| 2012-2013 - LV= Cup | Sale Sharks | 3 +1 | 1 | | | | | | 5 |
| 2012-2013 Total | | 22 +7 | 2 | | | | 1 | | 10 |
| 2011-2012 - Amlin Challenge Cup | Sale Sharks | 2 +2 | | | | | | | |
| 2011-2012 - AVIVA Premiership Rugby | Sale Sharks | 17 +4 | | | | | | | |
| 2011-2012 - LV= Cup | Sale Sharks | 0 +1 | | | | | | | |
| 2011-2012 Total | | 19 +7 | | | | | | | |
| Total - AVIVA Premiership Rugby | | 34 +7 | 1 | | | | 1 | | 5 |
| Total - European Rugby Champions Cup | | 2 +3 | | | | | | | |
| Total - LV= Cup | | 3 +2 | 1 | | | | | | 5 |
| Total - European Rugby Challenge Cup | | 2 +2 | | | | | | | |
| Total | | 41 +14 | 2 | 0 | 0 | 0 | 1 | 0 | 10 |
A plus sign (+) in the played column denotes substitute appearance