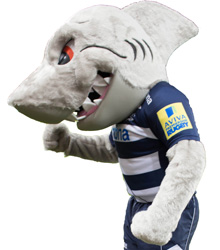 Sharky Sharky
| | |
| --- | --- |
| DOB | 1st Sep 1999 |
| Birthplace | The Manchester Ship Canal |
| Height | () |
| Weight | () |
| Position | Mascot |
| Honours | Mascot game, Twickenham |
Player Biog
Originally known as Mickey Fin, The Sale Sharks mascot changed his name by deed poll to Sharky.
Famous for his ferocious nature, Sharky was sent off at Twickenham for headbutting Harley Bear. He frequently does well in Mascot races, and has slimmed down considerably within the last three years.
If you see him during matches at The AJ Bell Stadium, say hi to him, take a #SharkySelfie - he's really nice... honestly!
A plus sign (+) in the played column denotes substitute appearance