Scrum-Half
Mhairi Grieve
09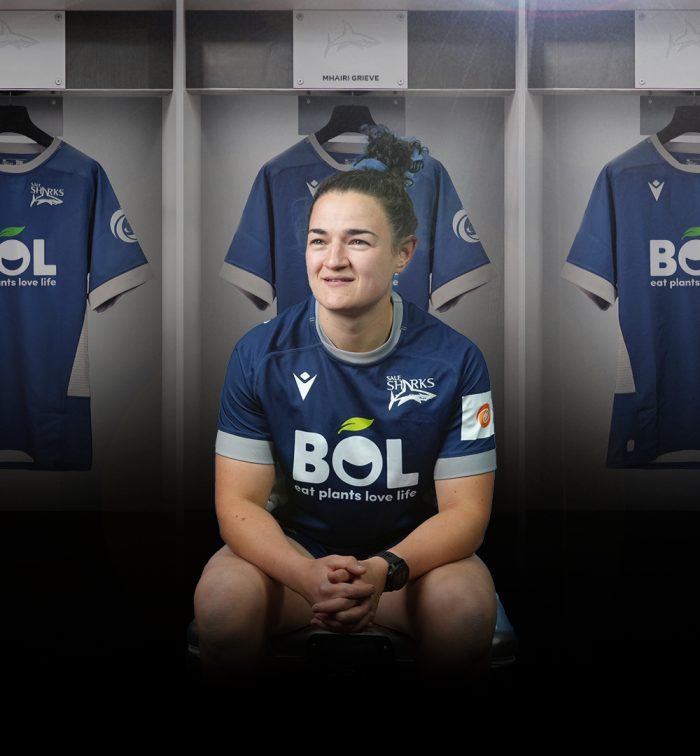 | Nationality | Date of Birth | Height | Weight |
| --- | --- | --- | --- |
| Scottish | 23/09/2023 | 166cm | 77kg |
Scrum-half Mhairi Grieve was one of the club's original Sharks, joining the club from Waterloo when the women's team was formed in 2020. 
She had moved to the North West in 2016 after finishing her veterinary degree at Edinburgh University. 
A keen hockey player, Mhairi's first taste of rugby was at the age of six when she joined Selkirk Mini Rhinos. Her journey with the oval ball ground to a halt when she went to a secondary school without a girls' rugby section, and her focus switched to equestrian eventing. 
At university she was reintroduced to rugby and it wasn't long before she received her first call-up, first to Scotland U20s and then to the full national side for a clash against Italy in 2014. 
She's since been capped at full international level and played for Scotland's 7s team. 
Outside the game, coffee-lover Mhairi enjoys CrossFit and works as a small animal veterinary surgeon in Cheshire.  
Three words that describe me are...
Competitive, hardworking, loyal.
If I wasn't a rugby player I would be...
A vet.
My go to takeaway order is...
Ham and pineapple pizza.
My main interests outside rugby are...
CrossFit, coffee and adventuring.
My favourite away stadium is...
The Stoop.
One thing that really gets on my nerves is...
Being rude.
My sporting hero is...
Tia-Clair Toomey.
My favourite gym exercise is...
Clean and jerk.
My favourite film is...
Moana.
My favourite thing to do in the North is...
Exploring the outdoors.
View team