We're building something special here at Sale Sharks.
With just 80 minutes of rugby separating us from 'Premiership champions' status this weekend, we're building something truly special here at Sale Sharks, and would love for you to join us on the journey!
On the pitch, we're celebrating our best season since 2006, and a squad stacked with local and international talent. Off it, attendances are continuing to grow, with plenty of improvements designed to give you the best possible matchday experience.
As we continue to grow, so too – we hope – will your benefits, with ambitions to improve the matchday experience even further as we work in partnership with Heathcote&Co.
From Arron Reed's last-gasp try against Bath, to victory over Saracens in front of over 10,000 fans, we've certainly had our fair share of memorable moments together, with plenty more to come.
We're just getting started.
A Sharks season ticket represents a saving of over £200 against match-by-match pricing, and the equivalent of almost five free matches* across the course of the season, meaning season ticket holders will again receive the best value in 2023/24.
While our on-pitch performances have seen us reach the Premiership Final in 2022/23, our season ticket pricing is among the lowest in the league, so you'll top-class rugby at top-class prices next season too!
There are two payment options available for next season: payment can be made in full up front, or via a monthly direct debit over 12 months – dependent on purchase date.
Any queries should be directed to support@salesharks.com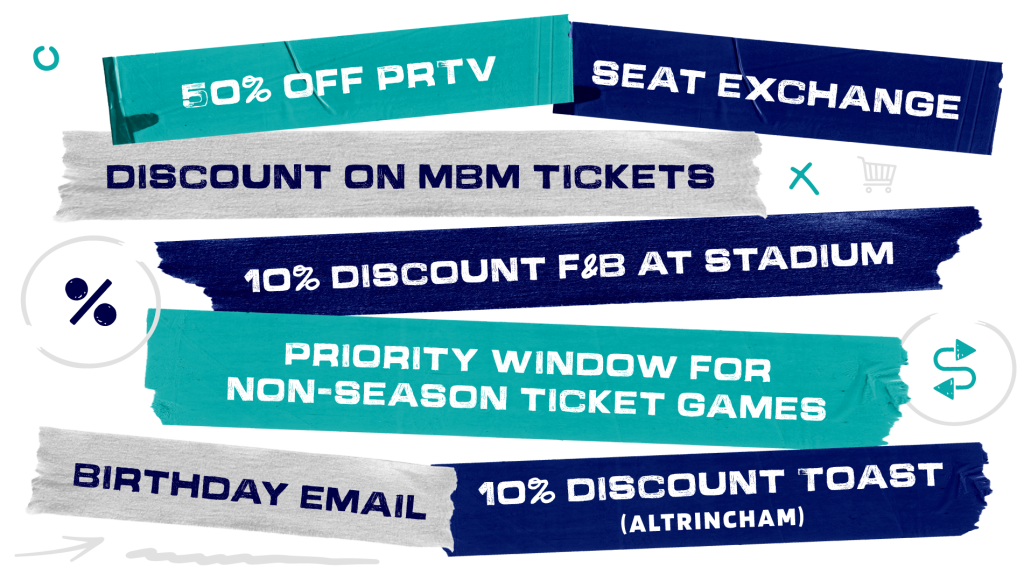 Your season ticket includes all home Gallagher Premiership league fixtures, all home Heineken Champions Cup group fixtures and all home Premiership Rugby Cup group fixtures. Season ticket holders will be given a priority booking period for any additional knock-out fixtures.
This season's benefits package includes a welcome gift, exclusive events and prize draws, entry into the Sale Sharks international ticket ballot, exclusive club and partner discounts plus much more!
If you are renewing your season ticket and want to change location, need to buy more, or need to change the price category eg. Adult to Senior, please contact support@salesharks.com before you renew.
You can forward your ticket to a family member/friend to make use of if it is in the same price bracket.
If you need to upgrade a ticket e.g. from junior to adult then this can only be done on a match day at the AJ Bell Stadium ticket office.
We also have the Seat Exchange and here's how it works –
You email to say you can't make X match, and that you'd like to use that ticket for Y match
The X match seat is then cancelled, and the ticket added to the Y match of their choice when available, and it is then emailed to them
Terms and Conditions
It cannot be done retrospectively
It must be requested no less than 48 hours before match day
There is no monetary replacement
Once moved it can't be moved again
Valid for Gallagher Premiership matches only
Season Ticket holders only
Multiple seat exchanges cannot be banked ie. Saved up and used at one match
Subject to availability (especially for Platinum ST holdersw)
Renewals
We are changing the way our Direct Debits work to help you spread the cost further. For the 2023/24 season, payments will be split over 12 months, and this will become a perpetual payment plan.
If you are currently paying by Direct Debit and wish this to continue, then you don't need to do anything, and your amended DD payments for 23/24 Season Tickets will start automatically on 1st July (until 1st June 2024)
If you want to opt out of Direct Debit payments and wish to pay by another method, please email support@salesharks.com
Should you opt out of your current Direct Debit, but later decide to buy a 23/24 Season Ticket, that will be a new Direct Debit mandate and you will be charged the £10 set up fee
Perpetual payments will continue until you opt out of the Direct Debit
Dates
15th June – the cut-off date for 12 monthly payments
1st July – 1st DD payment. Each payment will be taken on or around the 1st of each month (the DD dates are fixed)
New Direct Debit payments
Setting up the direct debit option couldn't be easier; all you have to is select the Direct Debit option at the checkout when ordering your Season Tickets. The fee is £10 per transaction so ensure all your Season Tickets are in the basket at the same time or you will be charged per individual transaction. For assistance please email support@salesharks.com.
The number of monthly payments is based on when you purchase your Season Ticket.
If you buy a season ticket in August and before the 15th, your first payment till be 1st September and you will have 10 payments (September > June). If it's after the 15th then the first payment will be 1st October and you will have 9 payments (October > June).
If you buy a season ticket in August and before the 15th, your first payment till be 1st September and you will have 10 payments (September > June). If it's after the 15th then the first payment will be 1st October and you will have 9 payments (October > June).
If your family's season tickets are in different names or you renew for a friend, if you haven't already set your network and permissions up, please do this before you renew to make the transaction smoother. It will also ensure that each person is entered into any Club ballots, rather than just the lead booker. The link to the Networking instruction page is here – eTicketing – My Network | Sale Shark
Our fantastic family season tickets are a great deal with a saving of 25% compared to buying individual season tickets.
Family Season Ticket for 2 adults & 2 juniors – select 2x Family Adult ST and 2x Family Junior ST
Three of Us Season Ticket for 1 adult & 2 juniors – select 1x Three of Us Adult ST and 2x Three of Us Junior ST
Two of Us Season Ticket for 1 adult & 1 junior – select 1x Two of Us Adult and 1x Two of Us Junior
Junior age is Under 17 as of 1st September 2023.
Adult 31-64
Senior 65+
Young Person 17-30
Junior 6-16
Junior 2-5
Disabled
Services (Blue Light, Forces, NHS, Veterans)
For Season Tickets, age is as of 1st September 2023
Yes! If you head to our ticketing page, you can see what the view looks like from every seat in the stadium thanks to Ticketmaster's virtual venue.