Sale Sharks Women take on Harlequins Women after an impressive 47-0 victory away from home last week at DMP Durham Sharks. Darren Lamon's side will be under no illusion of how difficult tomorrow's opponents will be having been soundly beaten by them at Twickenham Stoop back in October. There's a number of changes to the Sale Sharks women's side with Lauren Delany away on international duty and a number of girls missing out through injury.
There's four changes to the pack this weekend with the biggest loss being Daisy Hibbert-Jones who picked up a serious knee injury last week at DMP and will be out for the remainder of the season and we wish her well in her rehab. In the front row, there's a straight swap at Hooker as Scarlett Fielding comes in for Welsh international Molly Kelly and they'll be joined by last week's try scorer Katie Houghton and the dynamic Abu-Marzouq. There's all change in the second row with Hibbert-Jones out and Teleri also misses out due to a slight knock, in comes Vicky E Irwin who's provided huge impact off the bench in recent weeks and she's joined by Scottish international Nicola Howat who's back after an injury lay off. The back row includes the addition of Jess Elbeck who's been a fantastic find in recent weeks and joins try scorers Georgie Perris-Redding and Beth Stafford who both had very impressive outings in recent weeks.
The duo of Jess Roberts and Katy Daley-Mclean continue at halfbacks and there'll be a lot of pressure on these two to make sure that Sale play in the right areas of the pitch against a very tasty Harlequins back three. Laura Perrin and Alicia Calton continue to strengthen their partnership in the centres for a third week on the bounce. With Delany away on international duty, there's a reshuffle in the back three as the experienced Jess Wooden comes in at 15, Alex Wallace moves back to the wing and Lisa Neumann continues on the opposite wing and will be looking to add to her tally.
Lamon has a youthful looking bench with Freya Hellin, India Perris-Redding & Sarah Cornforth all coming into the squad. There's also a place on the bench again for Carys Hall who was last seen scoring twice against Saracens. Darren will be fully aware of the strengths that Harlequins will bring tomorrow but will enjoy having the underdog title and will be hoping for a strong back to back performance from his young Sharks!
The game will be streamed live through the Sale Sharks Twitter, Facebook & YouTube channels – 2:30pm KO.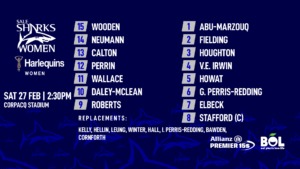 Related articles