Fabric of the north
We're dreamers on the pitch, training hard to challenge for League titles and European silverware. Off the pitch, working to level the playing field with grassroots and community programmes. Proud to be Northern, proud of the community we call home, proud to be Sharks.
Our club philosophy is simple – become a better person – our Sharks DNA running through the club makes us who we are. We're a family. A tea-drinking, protein-eating, rugby-loving family. Woven together by the Fabric of the North.



Shark blood runs through the club, our values woven in to the everyday make us who we are. Down-to-earth and inclusive. A family who look after each other, celebrating and learning together, proud of our history and proud to wear the badge. We take on challenges with courage on and off the pitch, with the belief that a good attitude and maximum effort means there are no limits. And we're fans too! Passionate about rugby and we care about the people that make the community we're proud to call home.
Our Sharks rallying cry. Respect is paramount. We don't underestimate our opponents on the pitch, warmly welcoming them to our stadium, a fortress, where the Sharks Family lift us every single game. Fearless on the pitch, inclusive and caring off the pitch. And we're not afraid to take risks. To try something new in search of being better and facing up to the toughest moments with courage and pride. Together, as Sharks. But we're also about using our position to make a real difference to our community. Being better drives us forward, together we are the unstoppable North.
More than just another rugby club
We try to do the right thing, win or lose because we're more than just another rugby club. To use our club to create chances to be better people, better communities, better businesses, that's our North star.
The calm waters of Carrington foster a High Performance culture where education and wellbeing is the heartbeat of our club. MindGym is the cornerstone of this approach and unique to Sale Sharks, an equal focus on mental health alongside physical health and how this can enhance performance, whether on the pitch of off the pitch.
Sharing our expertise and knowledge is part of our Sharks DNA, giving our fans the opportunity to go below the surface, whether that's through leadership days, coach education workshops, training tips, nutrition advice or community projects. It's about more than 80 mins of rugby. It's about being a better person.
"Good attitude, maximum effort, there are no limits."
Alex Sanderson
Director of Rugby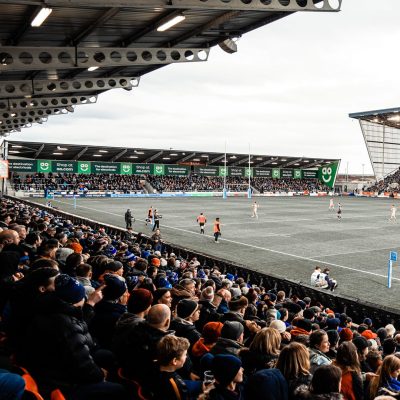 Where you can find us on game day.
Our home is the AJ Bell stadium, located in Salford, the home of rugby union in the North.  This is where you'll find us for home fixtures, celebrating our wins together and lifting each other up in adversity.  A family-friendly atmosphere we love.
Sharks Women play at the Corpacq Stadium on Heywood Road in Sale.  A young, emerging team that need your local support.  For a fiver you can watch top-flight women's rugby union, just down the road.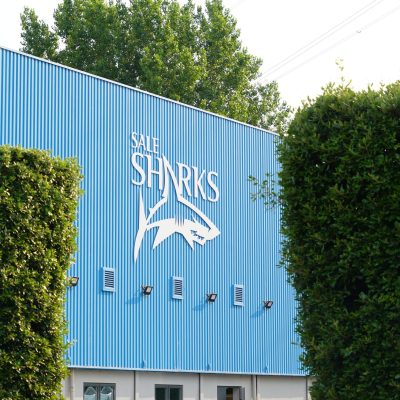 Where you can find us between games.
The calm waters of Carrington are where you'll find us outside of the 80 mins. Our high performance training facility houses our men's and women's squads, Academy, commercial team and Sale Sharks' official charity, the Sharks Community Trust.  Located in Trafford, Manchester, just off the M60, Sharks HQ is home to everyone from the CEO to the interns.