Welcome to Swimming with Sharks, the podcast from Sale Sharks hosted by Mark Chapman (BBC 5 Live, BBC Sport, Sky Sports, Match of the Day 2).
In this podcast we'll be taking you inside Carrington to show you why this is so much more than just a rugby club. But that's not all. In every episode we'll also be speaking to guests from some of the North's biggest and most successful sporting organisations about topics like leadership, building a winning culture, how to grow women's sport, data and science in sport, community work and much, much more.
We'll also be getting to know the men's and women's players too.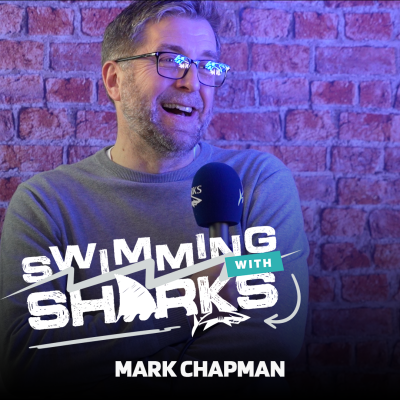 Trailer – Mark Chapman introduces Swimming With Sharks
Mark Chapman introduces Swimming with Sharks in this trailer. Including teasers of the first and second episodes alongside an overview of what the podcast is all about. We'll release a new episode every month, with the first available to download on Thursday 23rd February.
Listen here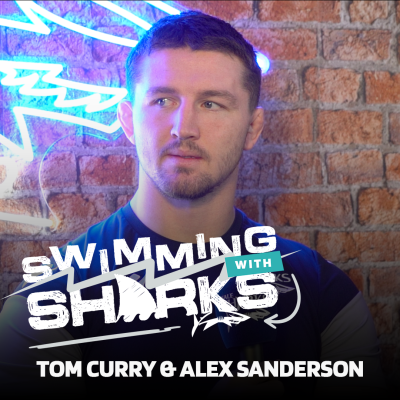 Episode 1 – Tom Curry & Alex Sanderson
In episode one Mark explores leadership both on and off the field with Sharks Director of Rugby Alex Sanderson and Sale and England flanker Tom Curry, who became the youngest England captain since 1988 when he led his country against Scotland at the age of 23 in 2022.
Alex explains what he means by intentional communication and tells Mark why he and his coaches 'force failure' in training to make sure the players are able to handle whatever challenge comes their way on the field.
Tom reveals how leading a team on the international stage is different from taking the armband at club level, why he loves playing with twin brother Ben and how his own style of leadership has evolved.
And we wrap up with a chat about the pride they feel in representing the club in the North and why it means so much to them to be able to make a difference in the community.
We'll also get to know Sharks winger Tom Roebuck (with a little bit of help from Joe Carpenter!)
Listen here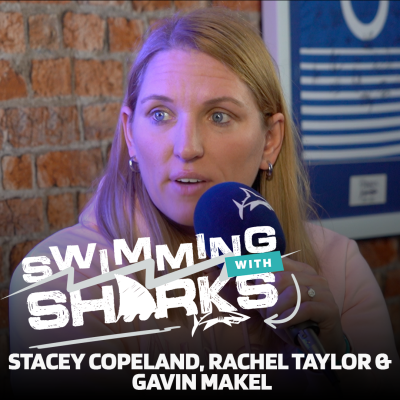 Episode 2 – Stacey Copeland, Rachel Taylor & Gavin Makel
Episode two is all about women's sport as Mark chats to Sharks Women's Performance Coach Rachel Taylor, along with Gavin Makel, the Managing Director of Manchester City Women's Football Club and proud Mancunian Stacey Copeland, who represented her country at both football and boxing and now presents on BBC Radio Manchester.
In an inspirational conversation, Rachel and Stacey talk about the barriers they faced trying to play rugby and football as kids, and the joy they get from the strides made in both sports in recent years.
Gavin gives listeners an insight into how Manchester City's men's and women's teams work together and how they've been able to grow the club and game commercially as well as just on the field.
Listen here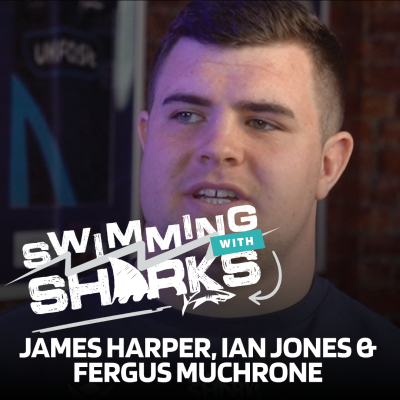 Episode 3 – James Harper, Ian Jones and Fergus Mulchrone
In this episode of Swimming with Sharks it's all about developing the next generation of sporting superstars as we explore talent ID, pathways and what sports can learn from each other.
Host Mark Chapman chats to Sharks Academy Manager Ferg Mulchrone, Burnley Football Club's Head of Coaching Ian Jones, and Sharks prop James Harper, who came through the academy system. Plus we get to know Sale Sharks and England star George Ford and find out about his secret obsession, with the help of Manu Tuilagi.
Listen here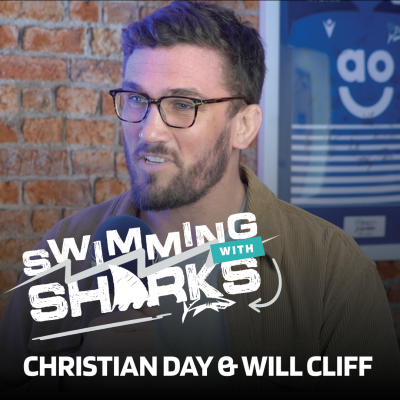 Episode 4 – Will Cliff & Christian Day
In this episode of Swimming with Sharks it's all about the next steps, and life after sport. What happens when a career in top level sport is over and how tough is it for sports men and women to adjust to the 'real world' and a 'proper' job – both physically and mentally?
Host Mark Chapman chats to Sharks favourite Will Cliff who has hung up his boots this summer after 16 years – including 14 at Sale Sharks – as a professional rugby player, and former Sale, Northampton and England forward Christian Day, who is now the General Secretary of the Rugby Players Association.
Listen here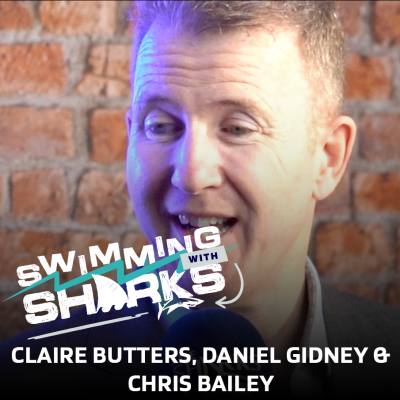 Episode 5 – Claire Butters, Daniel Gidney & Chris Bailey
In this episode of Swimming with Sharks we're exploring the business of sport. When does a professional sports club become a business? And how do you make clubs across all sports commercially viable so they grow off as well as on the pitch?
To discuss this and plenty more, host Mark Chapman is joined by Sale Sharks' Sales and Marketing Director Claire Butters, Lancashire County Cricket Club CEO Daniel Gidney and Chris Bailey, the CEO of Velocity Sports Group, who work with Manchester Storm on growing the commercial side of the club. Plus we get to know Sharks Women and Ireland full-back Lauren Delany with the help of teammate Holly Thorpe.
Listen here