Our Lifeguards exist to ensure all of our fans have the best possible experience at the Salford Stadium. By providing passionate and professional service, you can help to create a welcoming, friendly, and safe environment for everybody attending Sharks games.
As the first point of contact for fans outside the stadium on a matchday, you will be an essential part of the Sharks experience.
We work together as one Sharks Family, to create an outstanding and incentivised volunteering programme that is inclusive, friendly, enjoyable, and rewarding.
There are a variety of roles on a matchday that all help to ensure we are providing the best possible match day experience for all fans.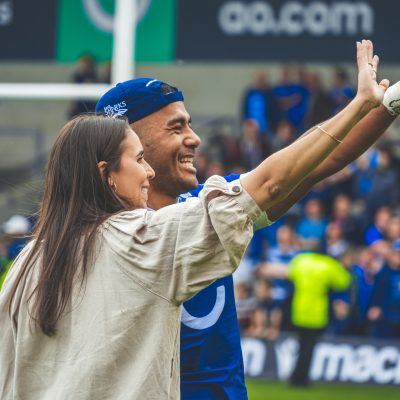 Meet & Greeters
Be the first person that fans meet when arriving at the stadium and make sure everyone gets a taste of that famous northern hospitality. Hi-five our younger sharks and send them on their way to a day they'll never forget, and make sure new fans have an experience that leaves them desperate to come back for more. You'll be responsible for making sure everyone gets into the ground in time for kick-off by supporting the steward team with queues and information.
Fan Zone Facilitators
You'll be on hand to help Sharky and Sharkira meet as many fans as possible and make sure fans know when and where they can find their favourite Sharks players doing interviews and signing sessions. You'll gather fans' feedback on what they like and what they want to see and help get fans from the fan zone into the ground in time for kick-off.
Founding Fans
This season we are launching a brand new 'first time fan experience'. We want to roll out the blue carpet for our new fans on matchdays and make sure they can't wait to come back! Ahead of the game you'll take them on a tour of the changing rooms, dugouts and kick a ball on the hallowed Salford Stadium turf. Then you'll give them a low down on the game and make sure they have everything they need to have a unforgettable day out.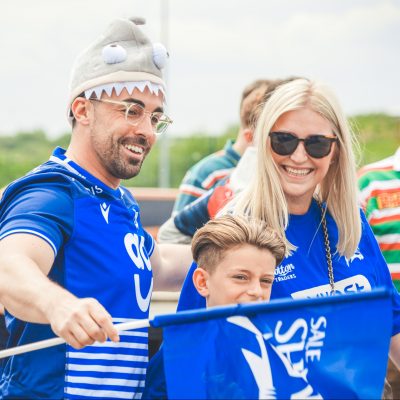 Shark Scouts
You will work with our ticket office to distribute our players' family accreditation, make sure our hospitality guests know where to go and help spot our VIP guests. You will also be integral to the new Sharks arrival as we give the players the best possible welcome to the ground as they prepare for the match!
You will need to be over the age of 18, and we would expect you to be available for at least 50% of our Sale Sharks home games.
You would only be required from two and a half hours before kick-off until the match gets underway, and then for 30 mins post-game. That means you can enjoy watching every Sharks game uninterrupted, safe in the knowledge that you have done your bit.
As a reward for your efforts, you will receive: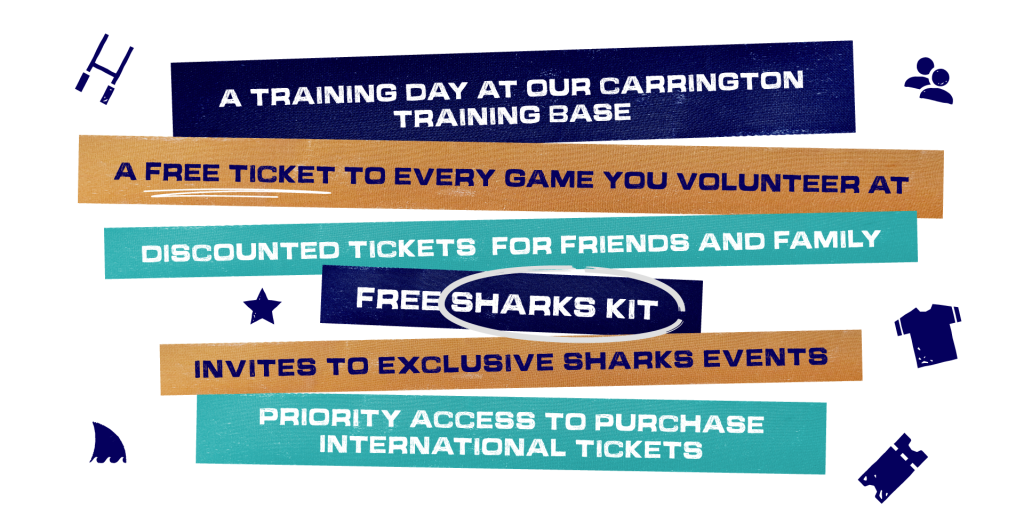 To register to be a Lifeguard simply click below to sign up! If you have any further questions, please contact Joshua.haywood@salesharks.com.