Following the news at the start of June, that Georgie Perris Redding, the Community Trust's Programme Manager and Sharks Women's player would be temporarily swapping the Carrington Training Centre for the US, as part of their Rugby 7s programme, we bring you the first instalment of Georgie's blog, 'Sharks in the USA'.
Part one: Swapping Carrington for Arkansas
I had been having conversations for a couple of months about the Rugby 7s programme at the American Rugby Pro Training Centre (ARPTC) as I am lucky enough to have dual citizenship (having been born in the US).  Fellow Sale Sharks Women's player Hannah Field coaches on the programme and it went from a laugh "would you ever.." to "have you booked your flights yet?!".
So on Tuesday 1st of June, I hoped on an 18 hour flight from Manchester, UK and travelled over to Little Rock, Arkansas, USA to spend the summer training and playing for around 12 weeks in total, So far, I am three weeks in with the culmination of the programme taking place on the final weekend in August with the USA National 7s tournament in Seattle, .
The purpose of this training camp is to develop players and help assist them in achieving National or International honours. Due to the programme being full time, it is also a great opportunity for me to develop rugby skills along with my tactical and technical awareness of the game. Which, will be of huge benefit to me next season as I tackle the Allianz Premier 15s again!
My new teammates: who are there, where are they from and how we are all getting on
There is a real mixture of players here from all over the USA. We have players from Chicago, Missouri and Wisconsin to name a few. One of the great things about the programme is, we all have Rugby in common and getting to know the people behind the player has been fascinating, where they are from, what their home cities are life, how they have got to here in a rugby context and discussing the differences in women's rugby from her in the US to England.
I am working on teaching them some English slang, discussing how magical the North is, how we do things differently there and all things Sale Sharks. I think after watching the Harlequins home match, followed by the double header Exeter Chiefs matches we have a few more Sharks supporters in the states!
Currently Judy, is the replacement for my twin, India. Judy is a prop/centre from Arizona, she is a fascinating human and one of her skills away from the pitch is she can belt a tune out! Judy has a unique ability to read a game and is definitely one of the key play makers on the team. I am working on getting Judy to show off these skills in sunny Manchester, so she can prove how god a singer she really is off the pitch and how much of a baller she is on it.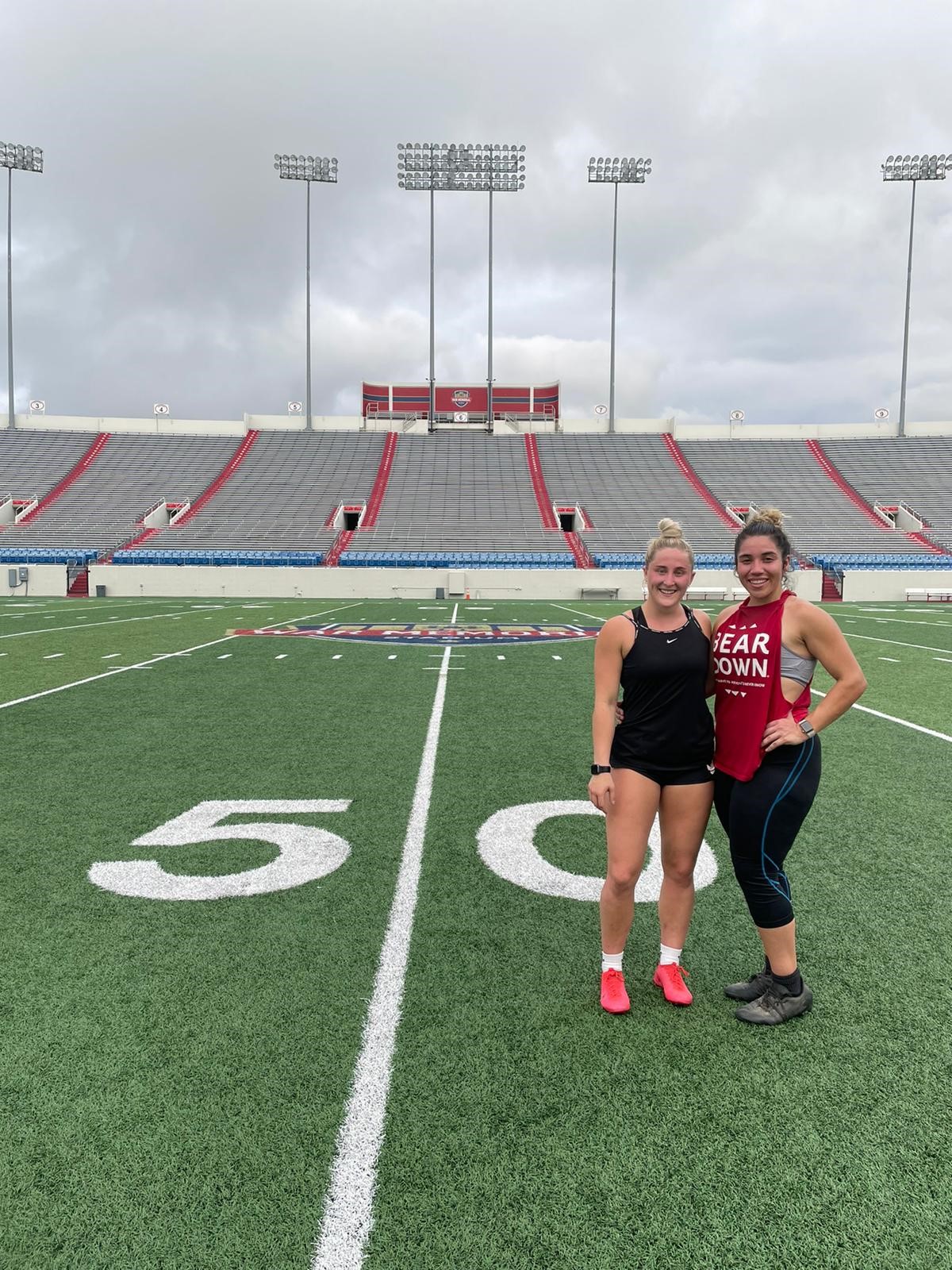 Georgie and Judy Gramajo, after a tough coaching session preparing for Falcon 7s Tournament
Training in 35 degree heat
Training is hard, especially in 35 degree heat every day. I have lost more weight in sweat and drank more water in two weeks than I think I have my whole life!!
The training regime almost the same each week, with a combination of gym sessions and on-field sessions along with mental skills and nutrition. We train every day, with most days having a minimum of three sessions per day, so it is full on, but I am loving it!
On the weekends when there is not a game, we will get the Sunday to rest and recover… or in my case sunbathe! I have bought a sun lounger from Walmart, much to the disgust of the team of the girls. I need to make the most of it as Manchester isn't famed for its wall to wall sunshine.
Coaches: who is there and how are they helping me improve as a player
Hannah Field is the head coach here at ARPTC. This has been good for me as I have played alongside Han last season of the Allianz Premiership 15s with Sharks so we know what makes each other tick and when to give each other some peace. Han has also been a huge force for my development over the last season, she also plays back row so I have enjoyed learning from her technically and tactically. Getting coached by Han daily is helping me develop and home in on specific skills, for me, last season I moved from scrumhalf/centre to the back row, so getting to grips with the do's and do nots of the breakdown has been interesting.
Out here also is, Hannah Stolba, Hannah is a capped USA Eagle and a very skilled fly half to say the least. She has been helping me with my catch and pass skills, vital to 7's least not 15's. She assures me after a couple more weeks that I will be able to drop kick like AJ!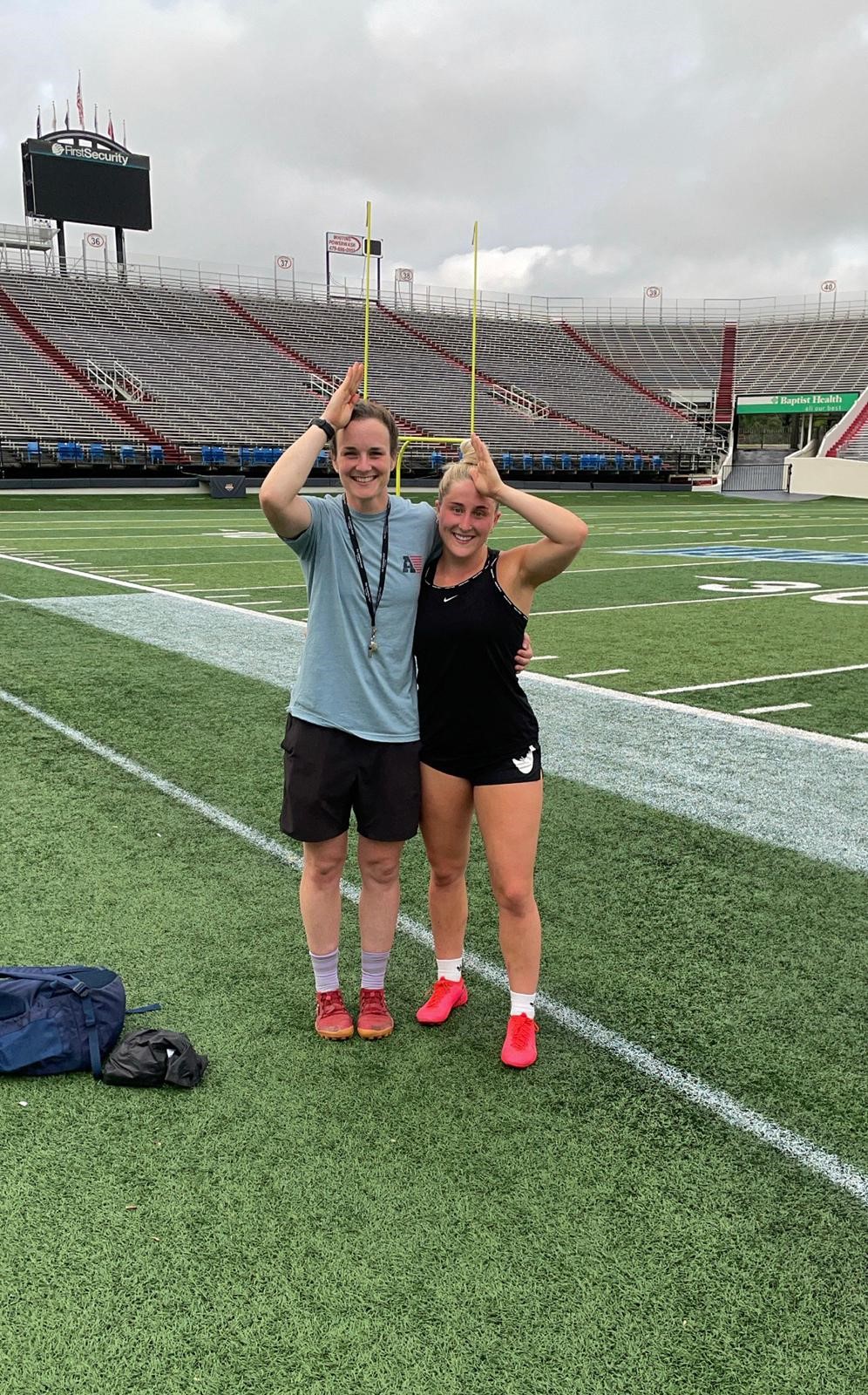 Georgie and Hannah Field, representing Sharks in the States
Work: how is this working, challenges, opportunities
Working out is here a change of scenery, I am working 3 days a week split across the week so it makes it manageable around my training schedule. It is challenging at times; the six hour time difference isn't always easy but we are making it work! I am enjoying still doing my job for Sharks Community Trust as it helps keep me busy during my free time and engaged with everything that is still going on in Manchester – so I don't miss it that much!
I have been out with ARPTC girl's youth project, coaching within the local community here at Little Rock to try and increase participation in rugby. This has been extremely rewarding and eye opening as rugby is not even the sixth popular chosen sport over here so getting to watch the kids try it for the first time and then witness how much this enjoy rugby is fantastic.
I have been telling all the ARPTC girls about the work we do at Sharks Community Trust and showing photos and videos of our work in action, hopefully this will give some ideas to some of them on how to grow the game back in their home towns.
Georgie and teammate Hannah Ebeling using their downtime to coach in the community of Little Rock
The week gone and the week ahead: what, how, when, why, and what I am looking forward to
It was a really exciting weekend as we had the Falcon 7s tournament here at Little Rock. ARPTC entered two teams along with the USA Hawks and six other teams from all over the USA. USA Hawks were made up of players within the International set-up so I was looking forward to seeing the standard that they set. It was a two day tournament so it was challenging physically as well as mentally as I haven't played 7s in a very long time but I really enjoyed the tournament, I can't say I enjoyed Monday!
This week has been focused on recovery and next week will focus on preparing for our tournament in Michigan when we take to the pitch again and work on the lessons learned from Falcon 7s.
I will be bringing my next blog after that tournament.
Related articles