Sharks and England star Curtis Langdon and scrum-half Gus Warr help deliver Mission Sharks programme in four schools
Mission Sharks is a six-week course delivered in schools and designed to give kids a taste of rugby and help them develop Sharks values
An England star and one of Sale Sharks' most promising young players inspired pupils at four Manchester schools when they dropped in as part of a new programme designed to grow the sport and help the club make a difference in its local community.
Sharks hooker Curtis Langdon and scrum-half Gus Warr visited two schools each as part of the club's Mission Sharks programme, which introduces youngsters in Trafford and Salford to the club's core values of togetherness, fearlessness, pride, humility and passion.
Curtis took time out of training to visit Partington Central Academy and Forest Gate Academy, both in Partington, while England U20 star Gus spent time with kids at Holy Cross & All Saints Primary School and Barton Moss Primary School, in Eccles.
More than 120 pupils from years five and six bombarded the players with questions in specially arranged assemblies, before gathering for autographs and pictures with their heroes.
And then they joined Mission Sharks coach, and former professional rugby player, Will Cargill for a gruelling touch rugby session.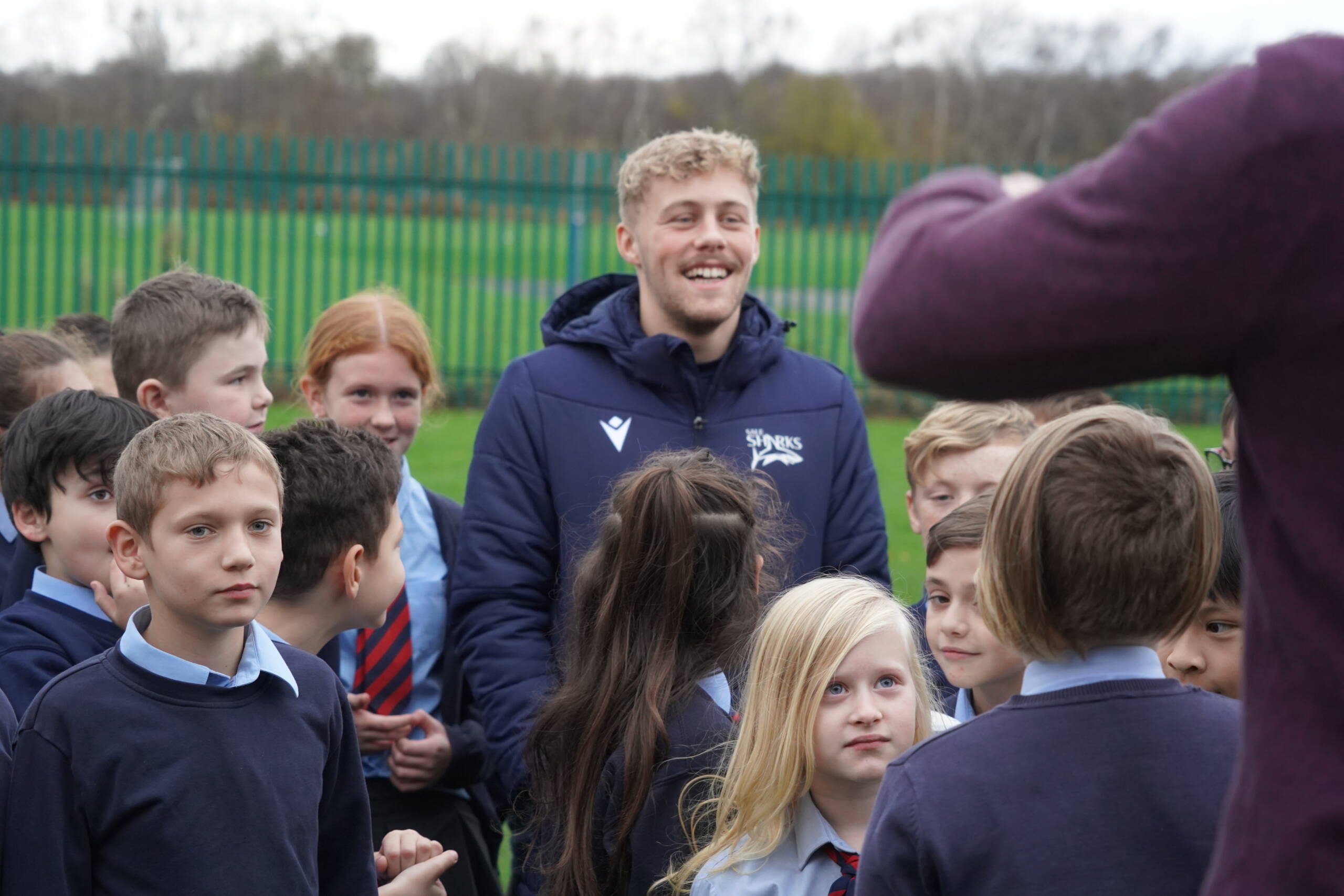 Curtis, who made his England debut in the summer, said: "This club is all about giving back to the community and we know how important it is for us, as players, to try and inspire the next generation of Sharks fans and players."
Launched earlier this year by Sale Sharks and led by Will Cargill, Mission Sharks is designed to link the club to primary schools in Trafford and Salford and give pupils a positive experience of rugby.
The six-week programme is focused on helping the youngsters grow on and off the field and introducing them to the values at the core of Sale Sharks.
Pupils who take part are invited to an exclusive festival at Sharks' Carrington training ground at the end of each term.
Sharks' Brand Manager Nick Allsop joined both players at the schools.
He said: "The players were brilliant, and all the kids in all four schools really enjoyed the sessions.
"Mission Sharks only launched this year but already we've worked with more than 500 pupils in schools across Trafford and Salford. It's a fantastic programme that is making a difference to young people right on our doorstep.
"As a club we have a responsibility to help grow the sport of rugby, and help our local community and that's what this programme is all about."
Related articles