A quartet of Sharks academy graduates were celebrating international call-ups this week as Raffi Quirke, Bevan Rodd and Tom Curry were named in Eddie Jones' England squad for the Six Nations and hooker Ewan Ashman was picked by Scotland coach Gregor Townsend.
But if Sharks DoR Alex Sanderson's predictions are correct, it might not be too long until another young Shark is spotted in international waters. In his pre-match briefing ahead of the Clermont game, Alex was asked if any other members of his squad could be pushing for a call-up.
His answer? Tom Roebuck.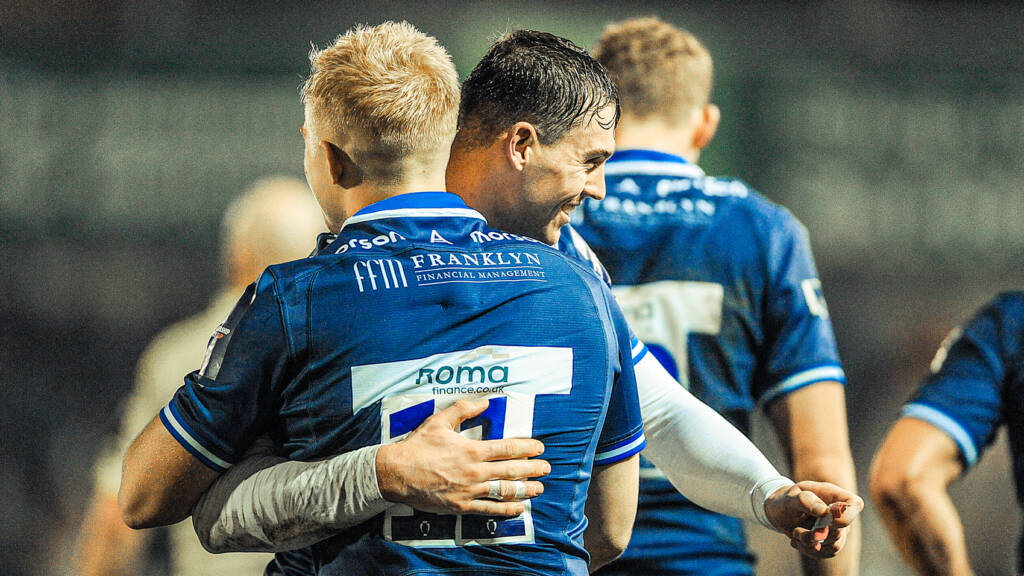 But the 21-year-old winger, who made his debut for the club last season, isn't letting the praise go to his head. Instead, he wants his electric try against Clermont to be just the start.
He said: "It's massive for us to have a coach like Alex. Last year he told us that we would all get an opportunity, he said 'I back you', and told us that he didn't see us as academy kids any more.
"This year, he said he didn't want to rotate as much but he's still giving us chances, so it shows the confidence he has in the younger players to go out and do a job.
"I think the fans can really connect with us. We're just young lads who have grown up in the area and always dreamed of playing for Sale."
Tom has scored tries for Sale before, but only in the Premiership Rugby Cup. His try against Clermont in the Stade Marcel-Michelin was his first for the club in either the Premiership or the Champions Cup.
He said: "We talk about lightning bolts, but it's normally referring to something that the other team does. It's something out of the blue and off the cuff that happens when we're on top. But this was a lightning bolt the other way because it came from their lineout.
"We were ready to defend the lineout and then in a split-second Rob (du Preez) had the ball and I was screaming at him to kick it. Then it was all about getting my head down and trying to fly as fast as I could.
"Everyone says it looked quick but I was just focused on getting to the ball and hoping for a good bounce. It didn't hit me until I got up that I'd scored in the Champions Cup. It's about time!
"It's something I'll really remember. Before the game the coaches were telling us that it would be a game we would remember so personally it's huge. But I can't get carried away with one try. I have to back it up and produce that kind of thing week in, week out.
At the start of the season I remember writing down my objectives and becoming a first team player was the main one. Not just to be someone who comes in when there are injuries, but to be a first choice winger who's picked on merit."
"Going into pre-season, all the younger lads really pushed on. There was a great picture from the pre-season game in Jersey of eight or nine of us on the pitch together and that felt like the start.
"I've played with guys like Raffi (Quirke) and James Harper since I was very young. What Raffi has done and achieved is amazing and he deserves everything he gets. He's a massive inspiration."
Now established in Alex's first team picture, what does 2022 hold for Chester-born Tom?
He added: "For me personally, in 2022 it's all about working and pushing as hard as I can. Can I be one of Sale's starting wingers? That's my focus.
"For the club, I can promise the fans that no-one at Carrington has given up on this being a really good season. I know it's not gone as well as we would have hoped so far but we're due a good run because we are playing well, and just not getting the results we maybe deserve. We've got lots of home games coming up and we know that with the players we have, we can beat anyone in front of our fans."
Related articles