Sale Sharks Women put in a stunning performance to record a season-high victory against DMP Sharks in round 17 of the Allianz Premier 15s
A warm day at Heywood Road was ignited as Sale Sharks Women scored nine tries against visitors DMP Sharks.
A comprehensive first half was followed by a closer second as DMP ultimately succumbed under unrelenting Sale pressure.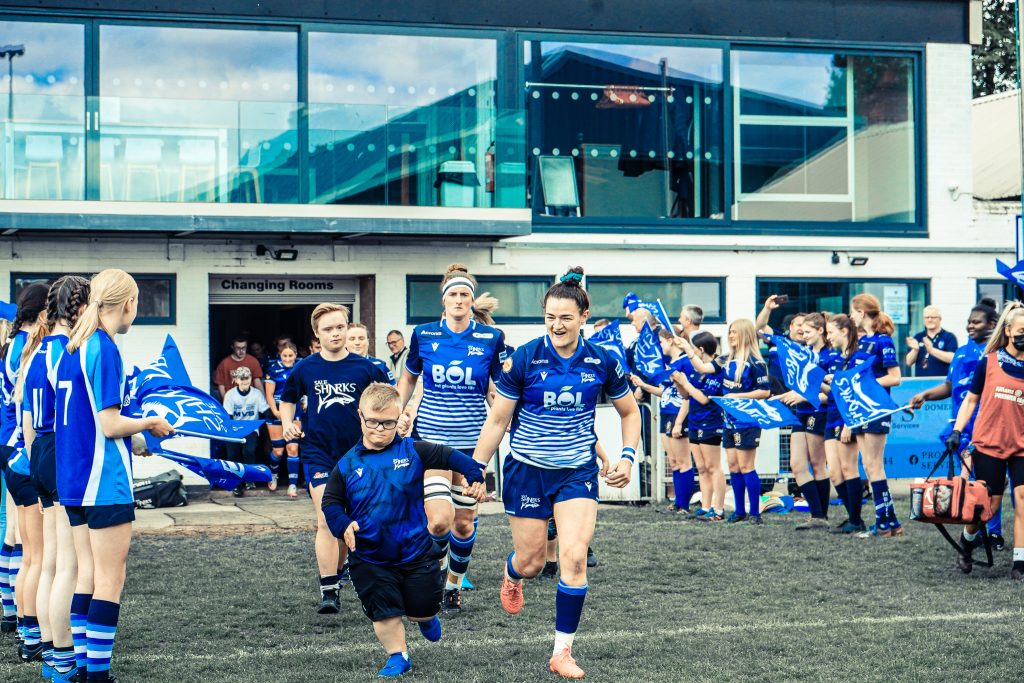 Sharks account was opened by Leah Lyons seven minutes into the game, the hooker steering a well-crafted Sharks maul across the whitewash. Her two front-row counterparts, Nick James and Catie Benson also scored in the first half, the former from a scrum-half-esque quickly taken penalty, the latter a powerful pick-and-go short-range effort.
Another forwards try was to follow, Daisy Hibbert-Jones lurking on the wing to finish off a well-worked overlap as Sharks dominated DMP in the narrow.
The first backs try came at the 30-minute mark as Vicky Irwin scythed through a gap before finding Lizzie Duffy, who in turn found Laura Perrin – the centre stretching her legs to finish a lovely offloading try.
Leah Lyons scored again before the break, a seafaring captain at the helm of another beautiful lineout maul.
DMP came out firing after the interval, and nearly scored early as they worked their way into decent territory.
But an outstanding performance from Vicky Irwin meant it was Sharks who scored next, the Irish international finding another brilliant line and muscling her way across the line.
Hibbert-Jones crossed for her second not long after, this time a pick-and-go effort – well converted by Lizzie Duffy who kicked six of nine attempted conversions.
A period of sustained DMP pressure followed, and it was finally with the run of play that the visitors scored a deserved try – a pick-and-go effort after a drawn-out try-line assault.
But it was Sale who had the final say, finding one last overlap that gave Katana Howard the option to dummy left and step across the try-line to cap off a fantastic team performance.
Sale Sharks next game is away to Worcester Warriors Women on Saturday 14th May.
BOL Foods Player of the Match: Vicky A Irwin
TEAMS:
Sale Sharks Women:
15. Vicky A Irwin, 14. Hollie Bawden, 13. Laura Perrin, 12. Katana Howard, 11. Evie Tonkin, 10. Lizzie Duffy, 9. Mhairi Grieve (C); 1. Catie Benson, 2. Leah Lyons, 3. Nick James, 4. Nicola Howat, 5. Molly Morrissey, 6. Daisy Hibbert-Jones, 7. Marion Ridgway, 8. Amy Orrow
Replacements
16. Molly Wright, 17. Aisha A Marzouq, 18. Katie Houghton, 19. Vicky E Irwin, 20. Georgie Perris- Redding, 21. Willow Bell, 22. Jessica Taylor-Roberts, 23. Jodie Ounsley
DMP Sharks Women:
15. Mackenzie THOMAS-ROBERTS, 14. Amy LAYZELL, 13. Abi EVANS, 12. Linzi TAYLOR, 11. Dani PHAN,10. Rosie INMAN , 9. Chloe BROOM, 1. Sam HERRICK, 2. Alana BAINBRIDGE 3. Meg GARDNER, 4. Tamara TAYLOR, 5. Kate SMITH, 6. Maelle PICUT, 7. Trudy COWAN, 8. Jaz HAZELL 
Replacements
16. Nic HAYNES, 17. Zoe TEEECE, 18. Scarlett THOMAS-THOMPSON,19. Jess WIESHEU, 20. Maisie JAMES , 21. George THOMAS-ROBERTS, 22. Elissa JENNINGS, 23. Cara COOKLAND 
Related articles