Today Premiership Rugby reveals a shortlist of three inspiring individuals who have been nominated for the Community Coach of the Year Award. The winner will be crowned at the Premiership Rugby Parliamentary Awards ceremony, attended by MPs, taking place at the House of Commons on 12 July.
The Parliamentary Awards is a celebration of the incredible work and impact achieved by Premiership Rugby and its clubs, demonstrating how their work is making an invaluable contribution to addressing some of the biggest societal challenges. Premiership Rugby seeks to help tackle inequalities that exist, believing wholeheartedly that all young people, no matter their background or ability, should have equal access to sporting opportunities which help them fulfil their potential.
This Community Coach of the Year Award is designed to reward and recognise the coach who has gone above and beyond to change the lives of members of their local community through their work on Premiership Rugby programmes.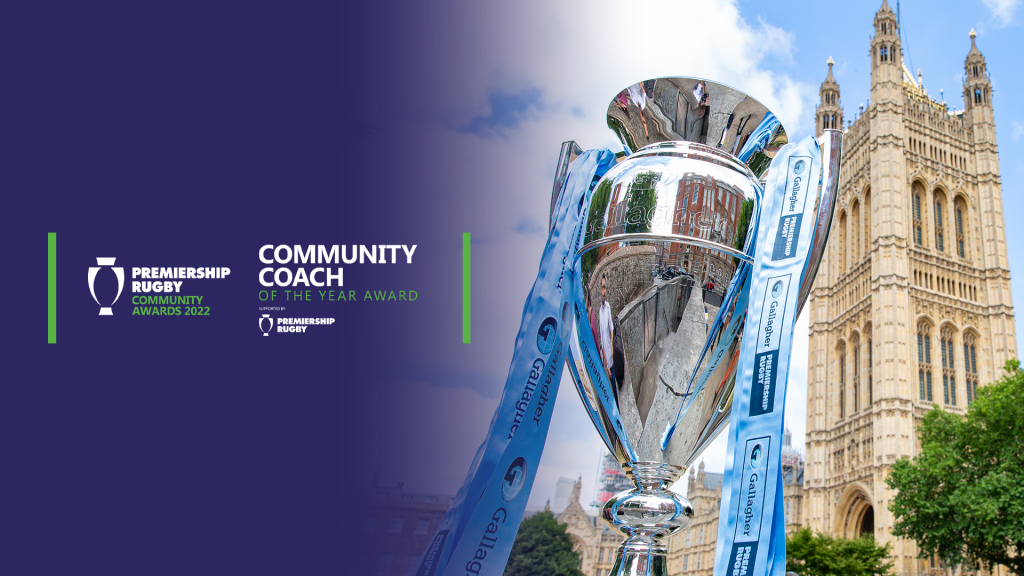 Shortlisted are:
Isobel Brick – Worcester Warriors
Isobel Brick has worked with more than 1,000 people in her role as an adapted sports coach for the Worcester Warriors Foundation, tailoring coaching to individuals who have their own complex needs. With her specialist background in Special Educational Needs (SEN), she proactively reached out to the SEN community delivering sessions through Project Rugby. Isobel introduced inclusive rugby coaching in specialist schools across the area and has created new SEN and inclusion teams at grassroots clubs to refer participants to so they can continue their rugby journey. Her team describe it as 'an incredible privilege' to watch how she has introduced the most vulnerable people to rugby. Isobel has changed the lives of both young people and adults with SEN who previously may not physically or mentally have been able to join a sports team or had the confidence to do so. Isobel has bought these people together to experience a close-knit, supportive environment within the rugby community which embraces them no matter what.
Mackenzie Carson – Saracens
Mackenzie Carson is a Saracens and Canadian international player who is having a huge impact on the landscape of girls rugby, bridging the gap between community and professional women's sport. Through campaigning around grassroots clubs, presenting webinars and speaking at events she is encouraging underrepresented groups of girls to change their perceptions of how rugby has historically been perceived. At the same time, she is championing clubs to educate themselves and make positive changes to support girls. She encourages three approaches; taster sessions for girls at school/community groups, support for clubs to grow a girls offering and educational workshops for clubs to understand the needs/barriers girls encounter when accessing the sport. The result of Mackenzie's work is evident in the tangible action grassroots clubs have taken. Thanks to her engagement with young girls and women from ethnically and socio-economically diverse backgrounds we are seeing the landscape change.
Daisy Hibbert-Jones – Sale Sharks
Daisy Hibbert-Jones strives to facilitate first-hand experiences of inclusive, accessible rugby. Running the fortnightly Crusaders Fin Club, one of the only rugby sessions for people with Down Syndrome in the country, she demonstrates there should be no barriers when it comes to sport. Specialist schools for children who struggle to follow instructions say her sessions are the best thing that has happened to their pupils. From not being able to get them to pick up a ball, they are now able to pass, run and kick. Daisy sacrifices her free time to spend evenings and weekends nurturing young people to gain confidence via the sport, working tirelessly to demonstrate that their disabilities need not hold them back. The inspiration she provides is evident in the turnout of programme participants who come to watch Daisy play as a member of the Sharks women's team. Her unique way of instilling a sense of security and reassurance whilst boosting their confidence has been life-changing for many.
Wayne Morris, Community and Corporate Social Responsibility Director Premiership Rugby says: "We simply couldn't deliver our community programmes without the support of the teams at the clubs. Our three nominees have clearly gone above and beyond their day-to-day roles, helping to ensure our sport is as inclusive and accessible to everyone, no matter their background. Their passion and determination to drive real change in their local communities sets the bar for us all."
Community programmes such as HITZ, Project Rugby, Champions and the Land Rover Cup are just some of the initiatives that Premiership Rugby run nationwide to help young people fulfil their potential.
Wayne continues, 'With the help of our partners Gallagher, Wooden Spoon, Land Rover and CVC, our coaches, and volunteers we are proud to say we help over 250,000 people annually via our community programmes. From encouraging participation in sport to supporting physical and mental well-being, improving educational attainment, creating employment opportunities, and developing community cohesion – our clubs sit right at the heart of their communities and their work shows that rugby has the power to change lives for the better.'
Other awards being presented at the ceremony, attended by MPs and stars from Premiership teams, include Rugby Ambassador of the Year, Outstanding Achiever of the Year and Community Volunteer of the Year.
Visit www.premiershiprugby.com/community for more information
Join in the conversation via the hashtag #RugbyChangingLives
Related articles