After starting the season at his rampaging best, hooker Akker van der Merwe could have been forgiven for thinking he'd made the Sharks number two shirt his own. But the powerful 31-year-old, who joined Sale in 2019, has seen enough of teammates Tommy Taylor and Ewan Ashman to know that was never going to be the case.
That stunning start to the 2022/23 season was stopped in its tracks when the 'Angry Warthog' picked up a potentially serious ankle injury at the end of the home clash with London Irish in October. But after six weeks on the sidelines, Akker is back, and he's ready to pick up where he left off.
"Honestly, I did think the injury was going to be a serious one when it first happened," he said. "It was really sore and I know that with the way I twisted, it could have been much worse.

"Competition for places, particularly at hooker, is massive here and that worry about whether you'll get your place back is in the back of your mind. But we're a really tight squad and the important thing is to get behind the lads who are playing and support them as much as possible.

"I've been at clubs where the competition for places has made the atmosphere pretty negative but that's not the case here. We all help each other and support each other to make sure the team is as good as it can be.

"We have a lot of hookers at the club and I'm a bit older and have a bit more experience than guys like Ewan Ashman, Ethan Caine and Harry Thompson, so I know I have a responsibility to help those guys as much as I can.

"I talk a lot with Ewan in particular about the game and I think we have a really good relationship. He calls me dad!

"He always wants to learn and I never feel like I have to force anything on him. He's come through the academy here and he's gone on to play for Scotland and I really feel like he has the potential to become one of the world's very best hookers in the next couple of years."

Akker's absence coincided with two defeats for Alex's men, but after getting back on track with a win against Gloucester, the former Cell C Sharks man says the team are ready to make a big push for the big trophies.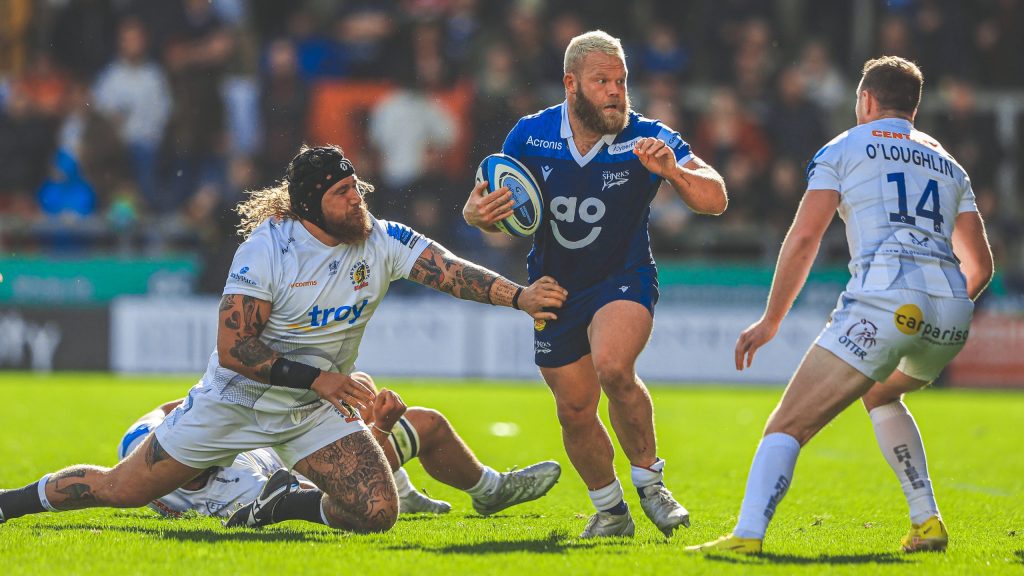 And he hopes a strong second half of the season could help him force his way back into the mix for a Springboks call-up.
"The team is in a really good place," he said. "We had a couple of hiccups against Harlequins and Saracens where we felt that maybe we'd gone back to playing how we played last season.

"But those defeats might be a good thing in the end because they showed us how far we have come in the last couple of years. I think the biggest difference is that everyone has completely bought into what we're trying to do. Everyone is on the same page, and everyone understands our gameplan.

"When we analysed those two losses, we could see how we went away from what we had been doing.

"Playing for the Springboks again is a big dream of mine and I'd love to be involved in the World Cup next year. It's still a big motivation for me but I know that will only happen if I'm playing well for Sale.

"All my focus is on winning some silverware with Sale. We have so much talent in this team and we all feel like we have a real shot at achieving something special this season."
And what of the 'Angry Warthog' moniker?
"I hated it at first," he added. "But it has really grown on me. In fact, the warthog is now my favourite animal!"
Related articles