Tonga star Telusa Veainu makes his Sharks debut alongside a host of exciting, homegrown talent, as Alex Sanderson names his team for the season opener against Bedford Blues on Saturday (5.30pm KO).
Former Tigers back Veainu starts at full-back following his switch from Stade Francais, and he's joined by fit-again Connor Doherty, Luke James and Captain Tom Curtis in an experienced back line for the Premiership Rugby Cup clash.
In the forwards, England U20 flanker Tristan Woodman starts at openside after starring for his country in the U20 World Cup in South Africa.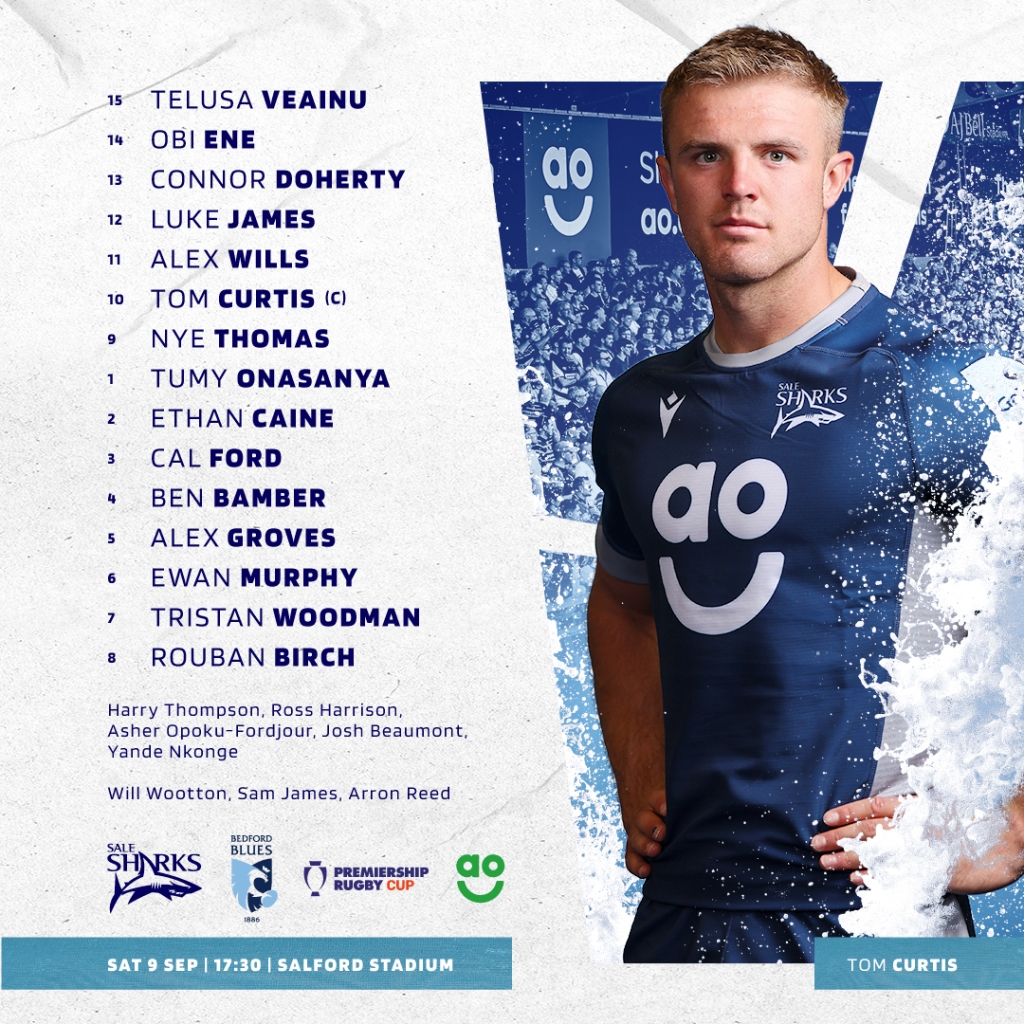 Tumy Onasanya, Ethan Caine and Cal Ford line up in a homegrown front row against the Championship side, with Ben Bamber and Alex Groves packing down in a towering second-row.
Woodman, who spent last season on loan at Fylde, starts at openside alongside Ewan Murphy, with Rouban Birch anchoring the scrum at number 8.
England U20 scrum-half Nye Thomas takes the number nine shirt, and he's joined at half-back by fly-half Tom Curtis.
In the centres, Luke James lines up alongside Connor Doherty, who missed most of last season after rupturing his achilles.
Another star of England's U20 World Cup campaign, Alex Wills, and trialist Obi Ene start on the wings, making up an electric back three with the more experienced Veainu.
The replacements bench is a mix of youth and experience, with first team forwards Ross Harrison, Josh Beaumont, and backs Sam James and Arron Reed joining academy stars Harry Thompson, Asher Opoku-Fordjour, Yande Nkonge and scrum-half Will Wootton.
Sale Sharks Starting XV:
15. Telusa Veainu, 14. Obi Ene, 13. Connor Doherty, 12. Luke James, 11. Alex Wills, 10. Tom Curtis, 9. Nye Thomas; 1. Tumy Onasanya, 2. Ethan Caine, 3. Cal Ford, 4. Ben Bamber, 5. Alex Groves, 6. Ewan Murphy, 7. Tristan Woodman, 8. Rouban Birch.
Replacements:
16. Harry Thompson, 17. Ross Harrison, 18. Asher Opoku-Fordjour, 19. Josh Beaumont, 20. Yande Nkonge, 21. Will Wootton, 22. Sam James, 23. Arron Reed.
Related articles