The Premiership Rugby Cup presents the perfect chance for clubs to shuffle the pack and give some of their brightest home-grown talent the chance to shine. For Sale Sharks, that means opportunity knocks today for academy stars like Joe Carpenter, Elliott Gourlay, Ewan Murphy and Ethan Caine to show Alex Sanderson that they're ready to make the step up to first team rugby.
Joining Joe and Elliott in an all-academy back line today is Leeds-born Jack Metcalf, who joined the club after Yorkshire Carnegie folded during the pandemic.
And, fresh from scoring his first Champions Cup try against Ospreys and signing a new three year deal, it's fair to say the 20 year old is loving life at Carrington.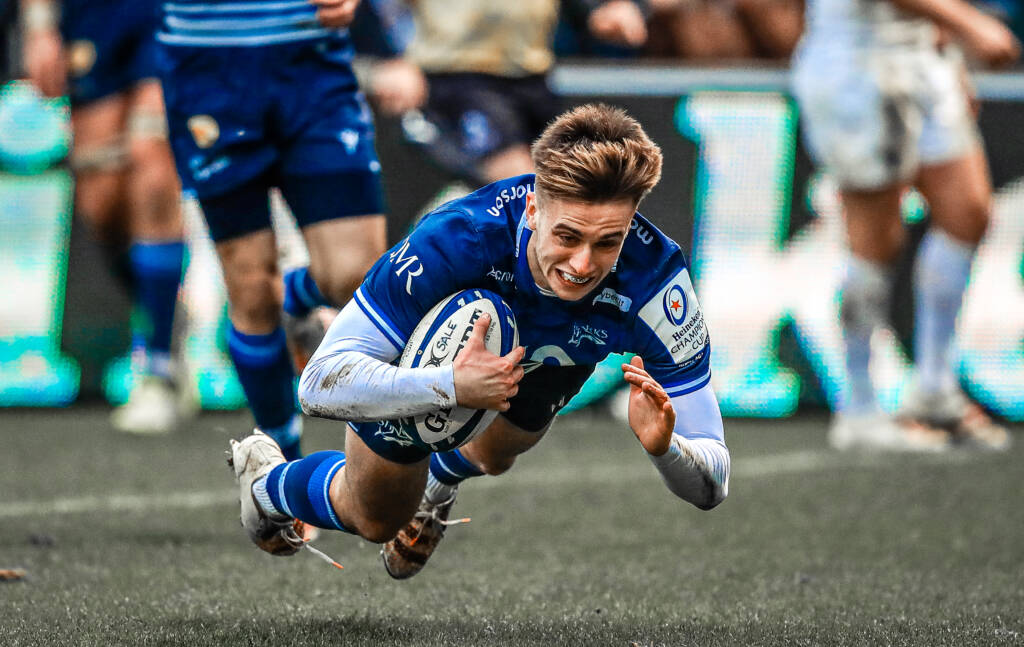 Jack said: "I signed for Yorkshire Carnegie straight out of college when I was 18 along with some other lads I was at college with. They were in the Championship but didn't have a lot of money so there was a lot of focus on youth, which was a great experience for me.
"I'd put a run of games together and then Covid came around. Rugby stopped and no one really knew what was going to happen and then unfortunately they folded. They're rebuilding now but back then we didn't know what was going to happen to us.
"Come Christmas 2020 I had no idea what I was going to do. I knew I didn't want to stop playing but then Ferg (Sharks Academy Manager Fergus Mulchrone) called me and asked if I fancied coming to train at Sharks for a week. After that week he just told me to keep coming back. We played a friendly against Newcastle and I obviously did ok because after that they signed me.
It had been tough but as soon as I joined Sale, I fell back in love with rugby. I just loved coming in every day and I knew it was where I wanted to be."
"Since then I've just tried to do my best every day. It's unbelievable to come to training every day and play with guys I've watched on TV growing up. I can remember watching Manu and Faf and if you'd told me two or three years ago that I'd be training and playing with them now, I wouldn't have believed you.
"The set-up here is immense and having a DoR like Alex who is willing to give young players a chance is great. I've played in the Premiership Cup, been on the bench in the Premiership and scored a try in the Champions Cup.
"Go back a year, I wasn't sure if I would be playing any more, but I'm loving my rugby now and I can't wait to see what the future brings.
"I've grown up playing 12 or 13 but I'll play anywhere in the back line and I think that versatility is good for me. I can be a good option off the bench whether it's at 12 or 13 or on the wing.
"At the end of the day it's just a number on a shirt. My future is here at Sale. I just need to keep doing what I'm doing, keep working hard and keep learning from the best players in the world.
"There's so much talent here. Just to be part of this unbelievable club is amazing."
Related articles