STRENGTH & CONDITIONING ADVICE
AN INTRODCUTION TO STRENGTH & CONDITIONING
Sharks Academy S&C Coach Max Addey introduces strength and conditioning training for young athletes. Max discusses the key factors Sale Sharks look for in a player, how strength and conditioning is applied within the academy set-up and more.
WATCH HERE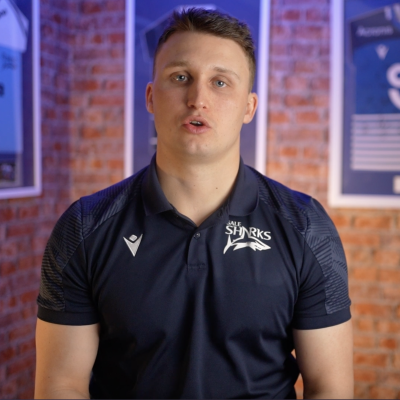 THE FUNDAMENTALS OF MOVEMENT
In this video Max looks at the fundamentals of movement and how Sale Sharks look to improve the movement and ability of players within the DPP and Sharks academy. Focusing on the key movement components required for aspiring athletes, learn how you can improve your agility, range and power.
WATCH HERE
COMMON MISCONCEPTIONS OF STRENGTH & CONDITIONING
Sharks Academy Strength and Conditioning coach Max Addey addresses some of the common misconceptions associated with strength training in young athletes. Max talks through some of the worries parents may have during their child's development, as well as dispelling some common training myths.
WATCH HERE
HOW TO BE A RELENTLESS ATHLETE
In this video, Max discusses one of the key components of the 'Sharks DNA'. Being a relentless athlete is a large part of transitioning through the Sale Sharks Academy and max takes time to explain what it takes to be a relentless athlete and the key ares to focus on throughout your development as a rugby player.
WATCH HERE