Earlier this week we took to social media to ask fans to submit questions for Katy to answer. I sat down with her after she completed a long, sweaty, lonely watt bike session on Tuesday afternoon to find out more about Sale Sharks Women's statement signing.
What attracted you to Sharks?
I had an honest conversation with Michelle Orange the co-owner at Sharks in regards to the club's plans – it's a new venture and there was a unique opportunity to get involved with this historic club from the beginning. The opportunity to come here, support the women's programme and get rugby union on the map in the North West was a huge selling point.
The 7 minute commute helps?
After a laugh; I have to admit that helps! The vast majority of my career has consisted of a lot of motorways and travel so I am really enjoying giving more focus to my body.
How did you get into Rugby? And what positions have you played?
I started when I was five, Rugby is massive in my family, my dad, uncle and cousin all played and I was on the sidelines watching every Saturday. As soon as I could I was down at my local club starting to play, which was Westoe RFC, South Shields. I played scrumhalf until I was 18 and moved to flyhalf when I moved into senior rugby.
Katy, ball on hand at Westoe RFC, South Shields
Why do you love rugby?
Without hesitation; I love how inclusive Rugby is, the game brings so many different types and sizes of people together, the variation of people you get to meet is amazing. With some sports you get the same type of people together, but that isn't the case with Rugby.
Who is your biggest supporter?
My dad.
Katy assures us, we will all meet him at home games at Heywood Road!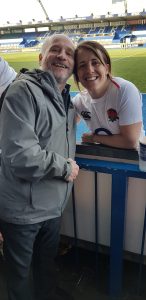 Dad Dave is a regular on the sidelines, to proudly watch daughter Katy take to the field at club and international fixtures
What are your best qualities as a leader and a player?
After some hesitation from a very modest Daley-Mclean; I am very vocal, I lead by example and I wouldn't make anyone do something I wouldn't do myself, which is really important for me. I am pretty honest and I enjoy what I do, I love the game and I hope that comes across.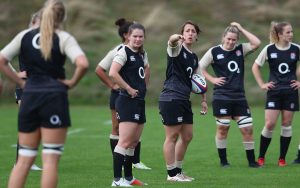 Katy firing orders out at an England Training Camp
What are your learnings from 2014?
Daley-Mclean captained the England side to World Cup victory in 2014 in France, whilst was a senior player as England fell short to New Zealand in 2017 in Belfast.
2014 was a huge learning curve and eye-opening experience for me, I thought you had to do everything as captain and if you didn't you were failing in some way. That experience taught me how key it is to have good people around you, building a really successful team of other people with other strengths and utilising those skills that those people bring to make sure everything is dealt with and addressed which allowed me to sit back and focus on other things. By the end of 2014, I was doing very little as those around me really supported me and took leads in those areas that they were much better at me at. That, for me, took some time to understand, that it was ok and a good thing.
And the final in 2017?
We as a group had a really interesting year, we had gone to New Zealand and beat them and were confident going into the final. First half went well, the problem came in the second half when they changed their game and we knew that early on. We recognised as a senior playing group this wasn't going to plan, but what we didn't do was come up with a solution that we were all on the same page with.
New Zealand deserved to win, they were the better team in that 40 minutes and the lessons for us is that everyone knowing the multiple options and not just a couple of us recognising the same thing.
Defeat was tough to take, going into Ireland it was a like a home game for us, for me, it was easier than the defeat in 2010 because in 2017. For 40 minutes they were better than us, they were smarter and as a player when you have done all you can and you're beaten by the better team that is easier to take.
What are you most excited about joining Sharks?
Jokingly Daley-Mclean shows her personality with a quick answer of the kit, and who can blame her!
She goes on to add; the stash, the gym, the facilities, the opportunity to join a club with such elite facilities and environment is amazing and this will drive the standards. It is also a really good opportunity to meet some new people, make some new friends in Manchester. Also, to really get Rugby off the ground and create an environment where people want to come too.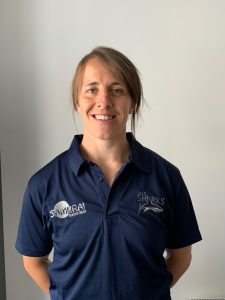 We can't disagree, the stash suits her…
Favourite play or move to execute?
It is worth noting, that I didn't fully complete the question and Katy has already answered with; cross field kick. She goes on to joke that a kick, chase for herself is the second option.
For all those questioning if the women will play entertaining rugby, I think we have our answer and if the kicking skills videos are anything to go by Daley-Mclean's accuracy is not something to be questioned!
It is also clear that Daley-Mclean has a sense of humour that has made her an already popular figure around Carrington.
We cannot wait to see a Katy Daley-Mclean kick, chase for herself in action!
How do you prepare mentally on matchdays and do you have a routine?
As I have got older it has got less and less. Generally listen to a bit of music, more of my routine these days is physical preparation; getting out early, striking the ball, stuff that gives me confidence going into the game. I don't have any lucky socks anymore, more about the physical routine.
Who has got the weirdest routine that you know?
Sarah Hunter, peanut butter and jam sandwich pre match meal.
Why should the top two teams in the league lose some international players?
I think my views on the league is ultimately we want a league that is competitive, the best way to drive the standard of women's rugby below international level is having a competitive domestic league, a good way to achieve that is a good spread of teams to compete at the top. We know Saracens and Harlequins are dominant at the moment and we need more teams to challenge that. For me, teams like Sharks where you have an elite performance centre, the opportunity we have now is to really drive that. It might not be a short-term goal but in the long term, hopefully driving a culture here that attracts high level players, hopefully that filters to other teams. Ultimately we want to be in a league that anyone can win it, for me that is the next step for the women's game, that is what is exciting, that is going to get us TV coverage and more financial backing for the game.
What would give you greater pleasure, winning with a huge margin or squeaking a late win against a title contender?
Second one.
Daley-Mclean proceeds to ask if she can win it with a drop goal, so we should expect plenty of dramatic finishes to tight games!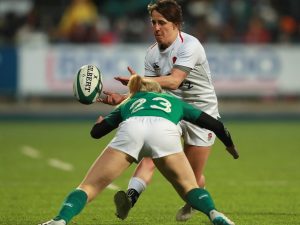 Katy in action against Ireland
What are your goals for this season on a personal level?
Getting the team going forward from a fly half perspective, assessing where we are in games and move us around the pitch. As halfbacks, we have a great influence over the game and actually to be able to do that will be able to take the pressure of other players. Also, to support younger players development.
Three words to describe yourself?
Competitive, soft and loyal. If I like you, you're in!
With that we leave you with this image as we wrap up the getting to know Katy Daley-Mclean Q&A session. It is fair to say that Katy has all the attributes of what Sale Sharks is about and understands the challenge the women will have when they embark life in the top flight however this is a challenge she is relishing, with the club's full support and the Sharks Family's, when we get the nod to do so!
Related articles