The Heineken Champions Cup has finally arrived at the AJ Bell! Here's everything you need to know ahead of kick-off this Sunday afternoon (Jan 23), as we look to do the double over Welsh outfit Ospreys.
Sale Sharks v Ospreys, AJ Bell Stadium, Kick-Off: 1pm

COVID-19
Following the Prime Minister's announcement regarding additional measures to limit the spread of Covid-19, supporters attending may be subject to COVID passport spot-checks. This means you may be asked to present evidence of your vaccination status, or evidence of a negative COVID-19 test prior to your entry to the AJ Bell Stadium if you are over the age of 18 and not exempt. Please ensure that you have a valid NHS Covid Pass on your mobile device and be ready to present this if you are asked to do so by the COVID-19 spot check team. The spot-check team will be located around the perimeter of the stadium on matchday.
Information about how to download your NHS Covid Pass can be found HERE.
If you are travelling from outside of England you can provide proof of vaccination that is available to you from your local health authority.
You can also take a Covid-19 test within 48 hours of your visit to the AJ Bell Stadium. You will need to register it with the NHS and present proof of your negative result. Tests can be ordered for free HERE.
Please remember that you must not attend a match if you are experiencing COVID-19 symptoms or if you are at risk of passing on COVID-19. The government guidance current 'stay at home' guidance is available HERE.
For full information and FAQ's, please click HERE.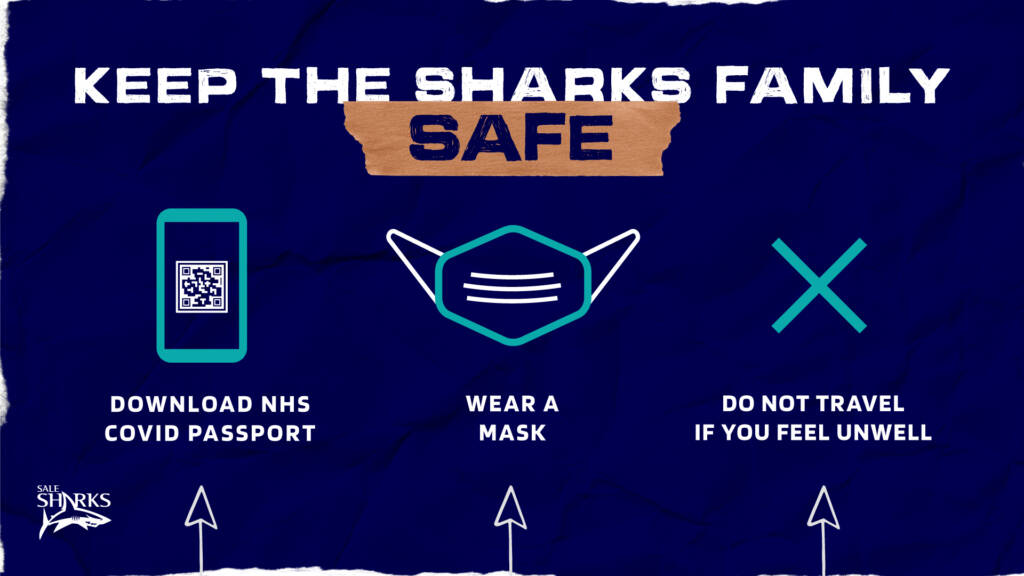 What's On?
Turnstiles open at 11:30am. You can arrive any time after this and settle in for the biggest competition in European rugby.
The gameday atmosphere will be provided by DJ Jay, pre-match in the stadium bowl, and there's a whole host of food options for you to pick from, see below!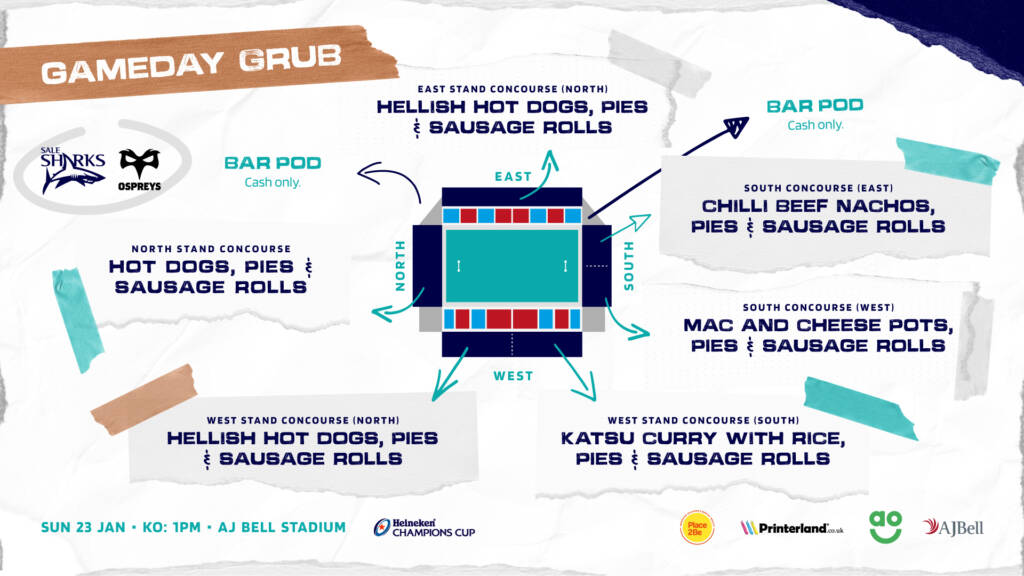 The teams will arrive at the stadium from 11:45am outside the West Stand reception, so make sure you're there to give the players a big welcome as we roll out the blue carpet.
Travel & Parking
Matchdays are always busy, so we advise everyone to plan their journeys and arrive at the AJ Bell Stadium in plenty of time before kick-off at 1pm.
All of our fans can now make use of the new Trafford Centre tram link, which provides great access to the stadium via our matchday 'Shark & Ride' shuttle buses which run from the bus stop just around the corner (£1 return). It's a great way to make the most of your day as you can leave the car at home (or park there for FREE), take advantage of the Trafford Centre's fantastic food options, and then head over to the AJ Bell! You can pre-book this HERE.
There is parking availability at the Makro car park, which is supported by a 'park & ride' shuttle bus to the stadium which is included in your parking costs. This must be pre-booked HERE.
Finally, if you're travelling from Didsbury, Parrswood or Cheadle you can make use of the Stockport shuttle bus. This will run as follows: Mercian Way – East Didsbury at 11:20am, Parrswood at 11:30am, The Red Lion Cheadle at 11:40am, and all pickups will be from the drop-off point 20 mins after the final whistle. This can be pre-booked HERE.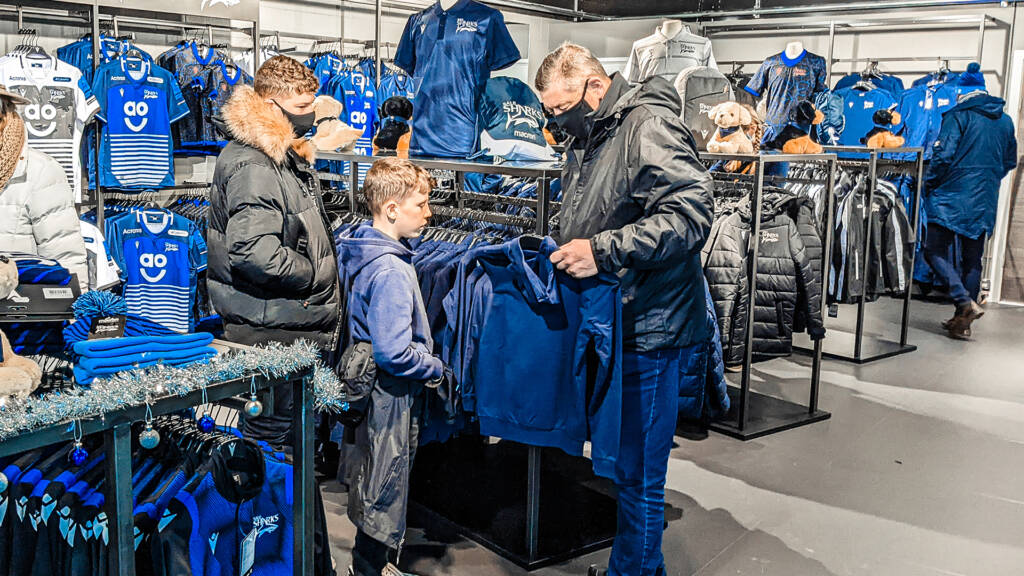 Club Shop
The Macron club shop will be open pre-match right up until kick-off, as well as post-match. Make sure to grab yourself some Sharks stash! You can also shop online, click HERE.
Matchday Programme
Our digital matchday programme is completely FREE! You can view & download it HERE.(Please note: this link will only be live from Friday 21st January)
Related articles