The Six Nations is in full swing, and we've got a belting fixture to throw into the mix this weekend with our 'Shark Nations' celebration as we take on Gloucester at the AJ Bell Stadium.
Sale Sharks v Gloucester, Saturday 12th March, AJ Bell Stadium, Kick-Off: 3pm
Key Timings
Turnstiles open at 1:30pm.
Players arriving at 1:45pm.
Kick-off at 3pm.
What's On?
We've got Sharks swimming in international waters in the Six Nations this weekend, but all the action will be at the AJ Bell as we face-off against Gloucester. We're approaching the business end of the season and the table is tight, making this a huge fixture in Manchester.
Our matchday atmosphere will be provided by the Talk Back brass band, and as a salute to our Sharks away on international duty we want to see you wearing your International shirts. Bonus points for any England strips!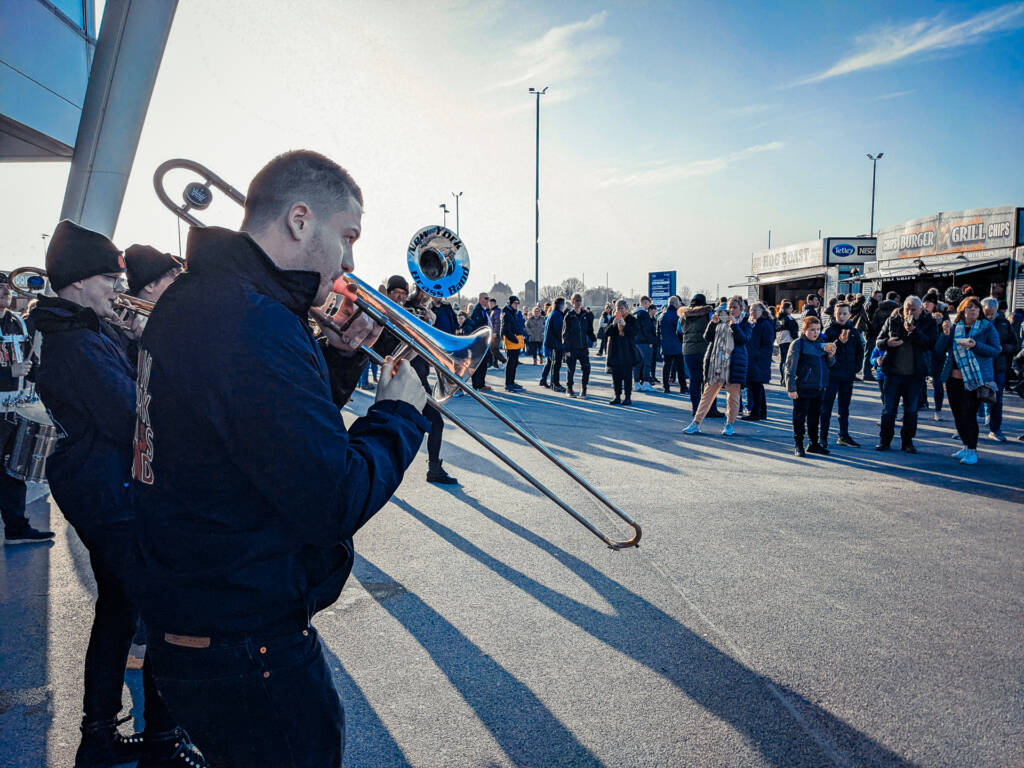 Our face-painter is back so make sure you get your war paint done pre-match, and throw an international flag in there for good measure. They will be in the Sharquee on the right of the entrance in the run up to the game.
Finally, it's the return of the Ruck Truck. We'll have a special guest Shark outside the main West stand before kick-off, so come on over, say hello and get yourself a Shark selfie.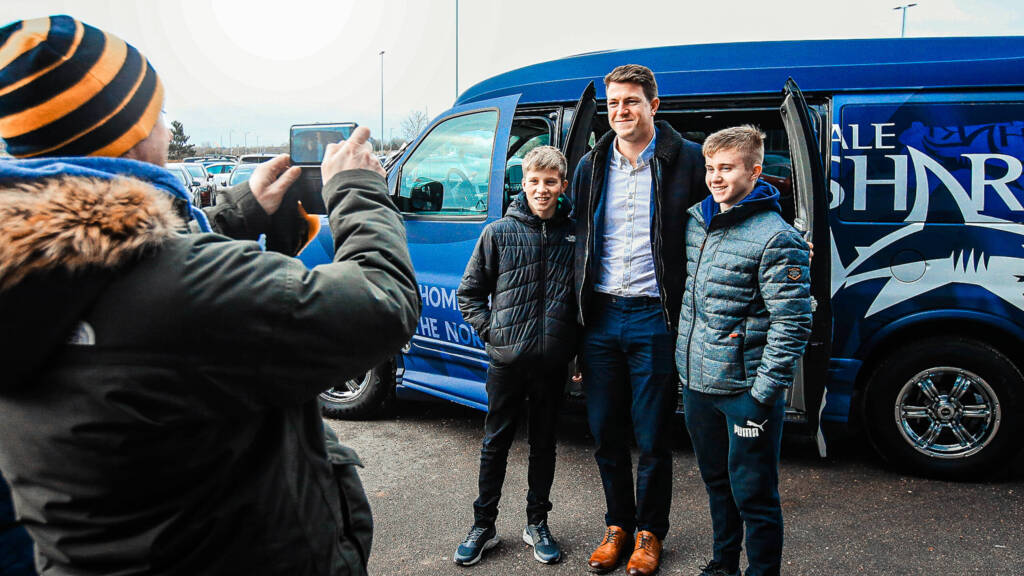 Travel & Parking
Make sure you plan your journeys and arrive at the AJ Bell Stadium in plenty of time before kick-off.
All of our fans can make use of the Trafford Centre tram link, which provides great access to the stadium via our matchday 'Dine & Ride' shuttle buses which run from the bus stop just around the corner (£1 return). It's a great way to make the most of your day as you can leave the car at home (or park there for FREE), take advantage of the Trafford Centre's fantastic food options, and then head over to the AJ Bell! You can pre-book this HERE.
Please note: We advise all supporters to park at the Regent Crescent car park 3 for any matchday parking.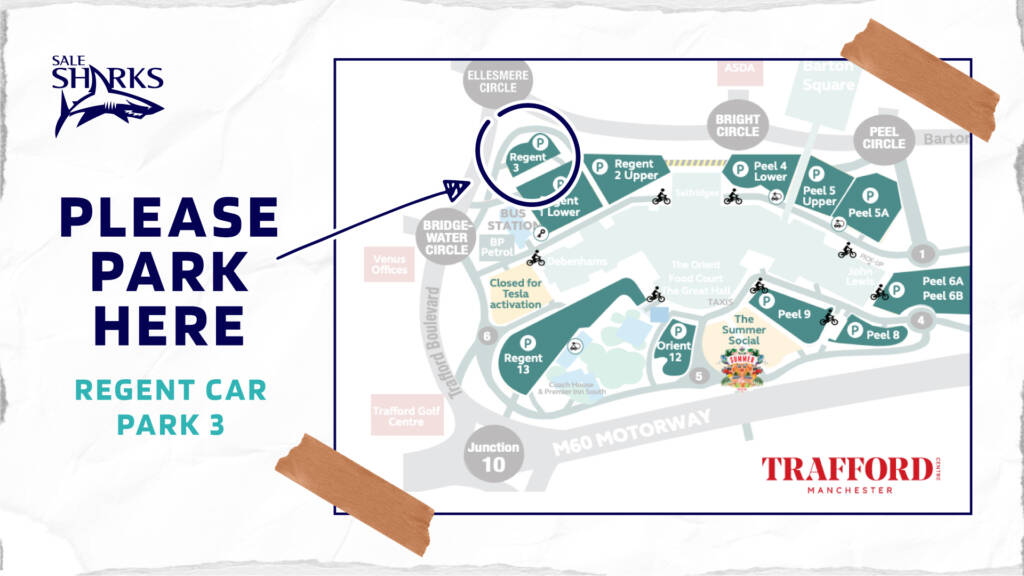 There is parking availability at the Makro car park, which is supported by a 'park & ride' shuttle bus to the stadium which is included in your parking costs. This must be pre-booked HERE.
You can also now park & ride from the Football 5 car park opposite the Chill Factore. The shuttle bus begins 2 hours 30 minutes before KO, it drops right outside the AJ Bell Stadium and is a fully accessible service. The shuttle service's final departure is 60 minutes after the final whistle from the AJ Bell Stadium. Supporters need to pre-book parking HERE.
Finally, if you're travelling from Didsbury, Parrswood or Cheadle you can make use of the Stockport shuttle bus. This will run as follows: Mercian Way – East Didsbury at 1:20pm, Parrswood at 1:30pm, The Red Lion Cheadle at 1:40pm, and all pickups will be from the drop-off point 20 mins after the final whistle. This can be pre-booked HERE.
Club Shop
The Macron club shop will be open pre-match right up until kick-off, as well as post-match. Make sure to grab yourself some Sharks stash. You can also shop online, click HERE.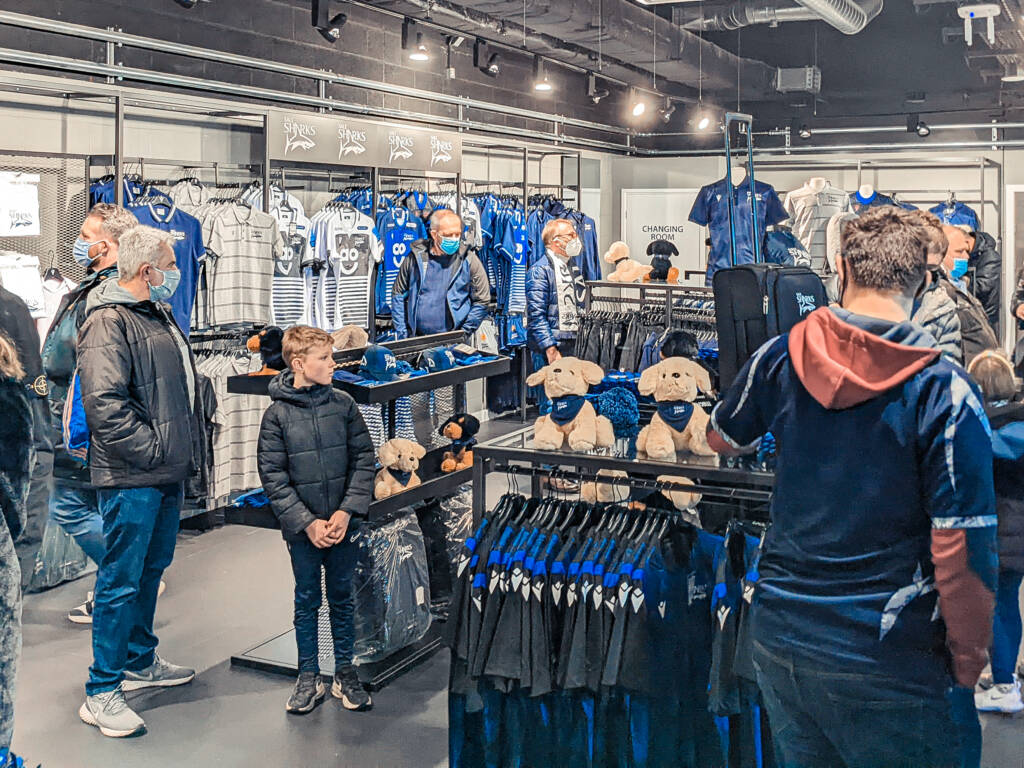 Matchday Programme
Our digital matchday programme is completely FREE! You can view & download it HERE.
(Please note: this link will only be live from Friday 11th March)

Bag Drop Point
To ensure that the AJ Bell Stadium is a safe, secure environment, all bags will be subjected to a physical and/or visual search at entrances to the stadium.Backpacks, holdalls, rucksacks, prams, trolleys, or other similar items larger than A4 size will not be allowed into the stadium. Only small handheld bags, no larger than A4 size will be allowed to enter the stadium. Drawstring bags, handbags, rucksacks, plastic bags that are A4 are permitted.
If you must bring bag, pram or other large item to the stadium that exceeds the allowable size, bag drop facilities that you can use to store your items will be in place until the match has finished.
For the full details, please click HERE.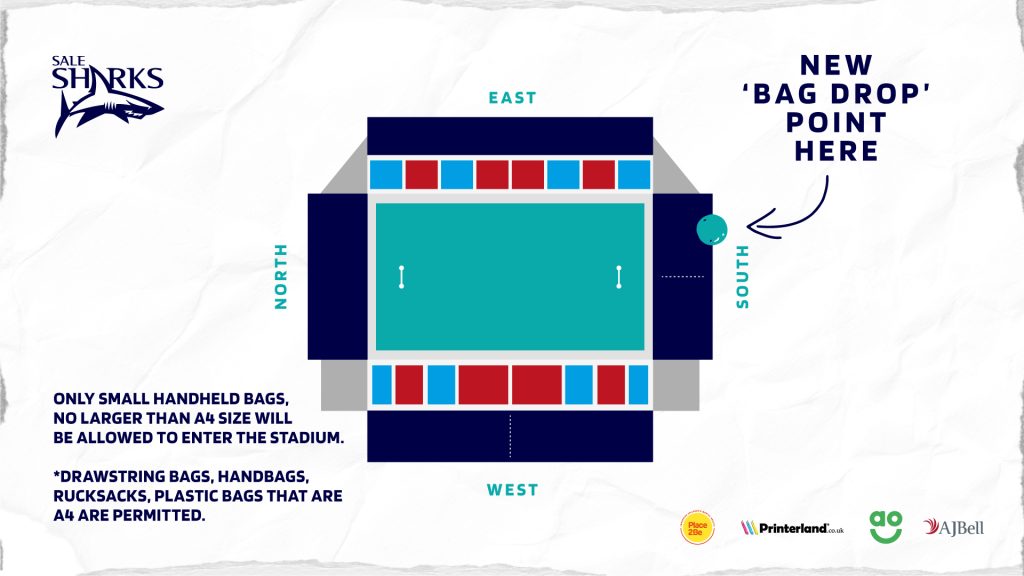 Match Sponsor:

Related articles