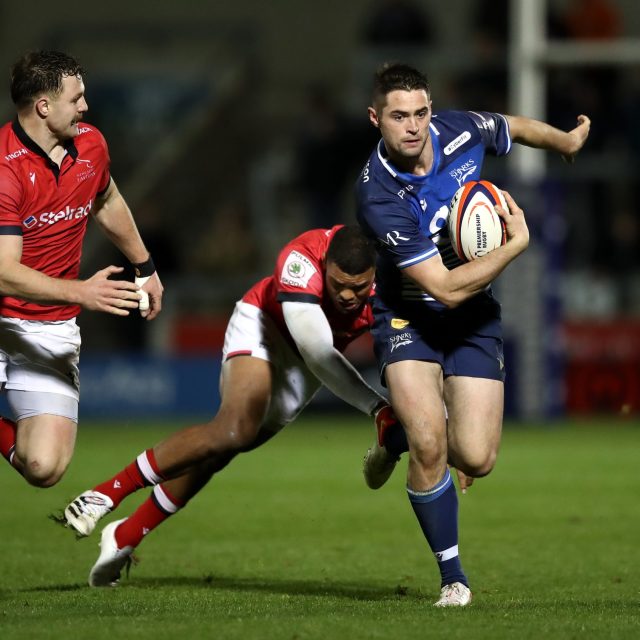 Follow #YourSharks Live

25
Sale Sharks
20
Newcastle Falcons
Fri 19 Nov 7:45pm AJ Bell Stadium Attendance:
Sale Sharks vs Newcastle Falcons
Sale Sharks defeated Newcastle Falcons at the AJ Bell in the Premiership Rugby Cup
It was a game of to-and-fro under the AJ Bell Friday night lights.
The match began with posing from both sides, box kicks flying in an early battle for territory.
The war of attrition gradually turned in Sharks favour as Newcastle runners were steadily driven backwards. A penalty for accidental offside gave Sharks the territory they needed to launch a first period of attack.
After being held up once, Sharks were awarded a central penalty soon after. Rob du Preez kicked Sharks into a three-point lead.
Newcastle regrouped well, fly-half Brett Connon shifting the play with some probing kicks to Sharks' back-three – a bouncing ball plus a hefty slice of luck and Haydon-Wood crossed for the visitors.
Sharks responded by steadily working their way into Falcons 22 before a dropped out-the-back pass created the confusion for the Jack Metcalf to accelerate across the line and restore Sharks' lead. Conversion from RDP good.
Sharks' defence was strong for the remainder of the half, consistently winning the contact and it was with the run of play that Arron Reed pounced on a loose ball and sprinted across to score at the break.
The second-half was a shakier affair, Connon notching three for the visitors early on. Du Preez responded in turn to keep water between the Sharks and the Falcons, but soon after a looping pass from Haydon-Wood put Earl through to score.
A try from the maul put Newcastle ahead with little over 10-minutes to play. The score was 18-20 and Sharks needed a response.
In what can only be described as end-to-end rugby, Sharks systematically powered through the Newcastle defence, stringing together phase after phase.
Breakthrough came as Tom Roebuck sprang through a gap and looked set to score. The crowd held their breath as he was stopped just short, but lovely quick service from Gus Warr at the ruck allowed Rouban Birch to tumble over the line to score.
Sharks didn't know it, but they had done enough. Newcastle came within centimetres of scoring again, but a trademark turnover from Sam Dugdale at the death secured possession and the win for Sharks.
A first victory in the 2021-22 Premiership Rugby Cup and a brilliant outing for Sharks' finest young talent.
Sharks next game is away to Saracens in the Gallagher Premiership on Sunday 28 November at 3pm.
Bruce Jack Player of the Match: Jack Metcalf
Previous meetings
H Friday
March 5th 2021
8:00pm
AJ Bell Stadium
Gallagher Premiership

Sale Sharks

31

:

Newcastle Falcons

16

A Friday
November 27th 2020
7:45pm
Kingston Park
Gallagher Premiership

Newcastle Falcons

15

:

Sale Sharks

13

A Saturday
March 23rd 2019
5:30pm
St James' Park
Gallagher Premiership

Newcastle Falcons

22

:

Sale Sharks

17